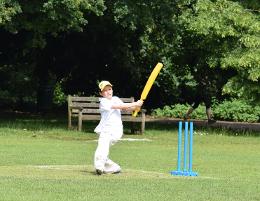 BIG BASH: Ben Barlow blasts another boundary at the Sheen Schools taped ball competition.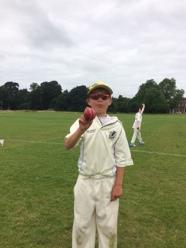 SPINBALL WIZARD: Eddie Rogan after claiming six wickets, including a hat-trick against NPL.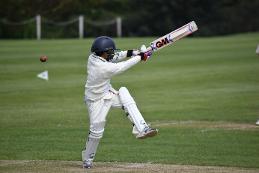 RAY OF SUNSHINE: Kiran Ray plays the pull shot with some aplomb.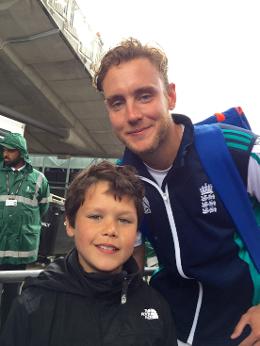 QUICK OFF THE MARK: Ted Clark meets Stuart Broad.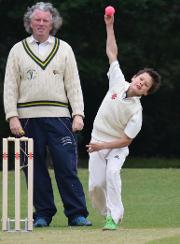 ....and Clarky in action at U10.
Season Review 2016
UNDER 13's

Middlesex League: 2nd in Div 1; County League winners

Middlesex Cup: Regional Cup winners; County Cup quarter-finalists

Surrey League: 6th

Surrey Cup: First round losers

Main men: Sam Hadfield & Tanmay Thanawalla

Young star: Arjun Bhat

Middlesex record: Pld 16 W 13 L 3

Surrey record: Pld 9 W 2 L 7

Season synopsis: Three losses in an 18 match season against all comers in Middlesex was a superb achievement and a test to both availability and the depth in this talented squad. The side claimed their first title of the summer before you could blink an eye – the West Region Cup – with a tense victory over Richmond, but hopes of progressing through to the National stage of this ECB run competition were dashed in a high quality match against Eastcote at Sheen, the visitors edging it by 14 runs. There was some confusion about the rules of the competition - players who had retired were allowed to return to the crease - but Eastcote claimed the match was being played to MCA rules, where no one was allowed to come back in. Out of the Cup, the focus then turned to the league, but two heavy defeats to Teddington meant the side had to be content with runners-up position in the West Region League. At least finishing second meant there was still a way through to challenging for the County League, and resounding victories against Kew, Harrow St Mary's and Primrose Hill saw the side through to Finals Day at the end of August. In the semi-final – against Teddington – Sheen at last played to their full potential, thumping an admittedly below full strength opposition by eight wickets. The final was an equally one-sided affair as Stoke Newington – victors over Eastcote in the semi-finals – were also swept aside by the same margin. Though statistically, there were few stand-out players (Sam Hadfield and Tanmay Thanawala apart), this in itself was the strength of the team. There were always three or four players putting their hands up to turn in match-winning performances and Safi Nazir's captaincy grew in authority and purpose the longer the season went on.




UNDER 12's

Middlesex League: 8th

Middlesex Cup: First round losers

Main man: Ben Grainger

Middlesex record: Pld 8 W 0 L 8

Season synopsis: With the club policy of playing up players, this age group was always in a vulnerable position and availability not what it might have been on many occasions. The performance of the U12 squad on paper at least was very poor, but when one considers that there were five U12's who played regularly in the U13's and a crop of players coming through at U11, there is no reason why this squad should not be extremely competitive in 2017. The team did not manage a single win through the entire summer, but it played largely as a development side and was never put out as a fully competitive team. It had been hoped that those who played up at U13 might be available for an U12 Cup run, but this never materialised.

UNDER 11's

Middlesex League: Division Two winners

Surrey League: 4th

Middlesex Cup: KO 2nd Round

Surrey Cup: First round losers

Main man: Gabriel Hammond

Young star: Ben Barlow

Middlesex Record: Pld 11 W 7 L 3

Surrey Record: Pld 10 W 4 L 6

Season synopsis: With the quality of player here was in this side, it should have been a formality to win the B League – were it not for the fact that another very decent team – Teddington – were in the same division. The season hinged on the away game at Teddington where only a win would keep the side in with the chance of winning the title – and a fine batting performance after some disciplined bowling took the side to an unexpected victory. When Teddington also suffered a shock defeat at Barnes, the title was won. There was less success in the league play-offs where the team lost a quality fixture against Indian Gymkhana and in the Cup, where the team succumbed to Sunbury. The side was made up predominantly of very good U10's with a smattering of U11's. The result was an extremely well balanced team.

UNDER 10's

Middlesex League: Regional Winners

Middlesex Cup: County semi-final losers

Surrey Cup: First round losers

Main man: Rufus Goodman

Young star: Eddie Rogan

Middlesex Record: Pld 19 W 16 L 3

Season synopsis: A record of 16 wins from 19 starts, with all three defeats coming in the Gubby Allen pairs format, were indicative of the quality that emerged from a squad of players who frequently played up to U11. Unbeaten in 20/20 league cricket, the side strung together nine successive wins to win the title by a comfortable margin, though it did require a victory in the last match against Indian Gymkhana to guarantee success. The performances of Rufus Goodman and Eddie Rogan were at the heart of the team's drive for the title and the mature captaincy of Dilly Shori combined with the appearance of George Grisdale mid-season also made a significant impact. This was a fine squad – wherever you looked there was talent – and above all, they truly enjoyed playing together and built a fantastic team-spirit.