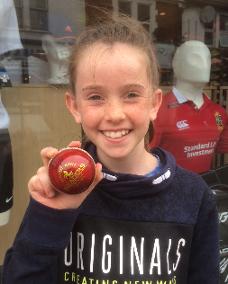 WICKET MAIDEN: Eadie Alexander took two wickets in two balls in her first game for Sheen Colts at Twickenham.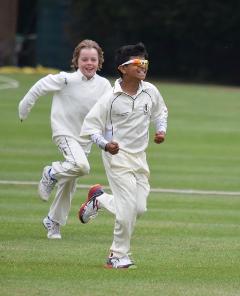 RUNNING MEN: Shori claims another victim
GOTCHA: Luke Magalhaes leads the celebration with Rufus Goodman and a thoughtful Will Weir.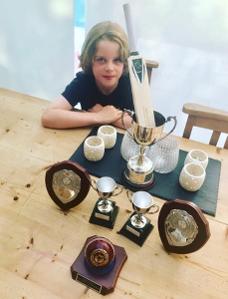 PLAYER OF THE YEAR: Olly Richards, who claimed six Trophies at the annual prize giving.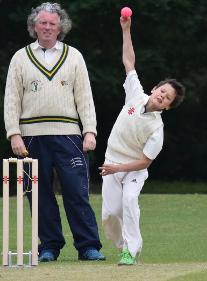 FAST AND THE FURIOUS: Ted Clark in action at Sunbury.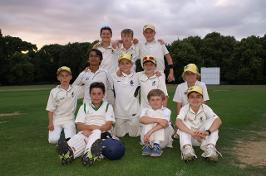 CUP WINNERS: The team after the U11 Regional final win against Teddington.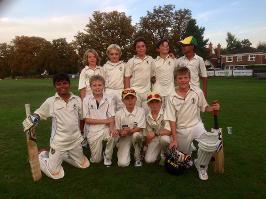 STOKED UP: Celebrating a compelling win against Esher in the eight-a-side final.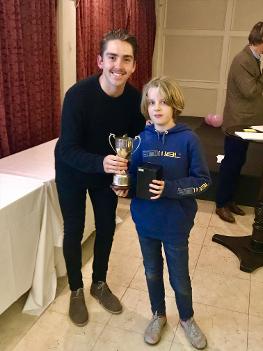 OLE OLLY: Olly Richards collects the Sheen Colts Victor Ludorum trophy from former Sheen Colt and Middlesex Cricketer, Tom Lace.
SHEEN PARK COLTS BULLETIN
SEASON 2019
1. WELCOME
We had, by our own standards, a quiet year in 2018, with just one trophy success – in the U13 League.
However, what made it a special year was the blossoming of a crop of younger players who achieved way beyond what was expected at U10.
Almost to a man, they were under age and will be back competing at that age group again this summer. The more robust in the group will also play up at U11 and even U12.
Many congratulations to Olly Richards for retaining the Victor Ludorum Trophy that is awarded to the boy or girl who collects the most points through the summer batting, bowling and fielding.
2. SHEEN COLTS COMMUNICATIONS
WEBSITE
You are on it if you're reading this. There is a fair amount of information on the website, including that about fixtures, membership, dates for the diary etc.
FACEBOOK PAGE
We use a 'Sheen Scorchers' Facebook page as a back-up to the regular e-mails you receive.
Please check out the page (Google: Sheen Scorchers) and click the 'like' icon inset in the main picture it to receive regular updates. It is an invaluable tool for last minute cancellation of games, etc. and will be regularly updated with information relevant to the Colts section.
(Please note – if you click the 'like' box, this means you will see the Sheen Scorchers status updates but the site cannot see your personal information or posts if you don't wish anyone to do so.)
TWITTER
We have a 'Sheen Scorchers' account – so 'follow' it to receive regular updates through the coming summer.
E-MAIL
If you are not on Facebook or not much of a Googler or Tweeter – never fear. All the information you need will be sent via e-mail to you through the season, (Camps, membership, matches, etc.) provided you are on the mailing list.
THIS IS SENT CHRONOLOGICALLY THROUGH THE SEASON. 1-1'S; EASTER CAMPS; SUMMER MEMBERSHIP; HALF-TERM CAMP; SUMMER CAMPS ETC.
If you are not a member but are keen on joining the club, please send an email (totonybraldo@gmail.com) with the following details:
Parents name(s), Address, Tel(s), Child's name(s), DOB, Place of birth, School, Allergies, etc. (if applicable)
Once these have been received you will be added to the members mailing list and receive regular updates.
PLEASE NOTE: WE ARE VERY MUCH ON THE HUNT FOR NEW MEMBERS – PARTICULARLY AT U11.
3. MIDDLESEX COUNTY COLTS
We are the most successful Colts Club in Middlesex in proportion to our numbers. Again this winter a decent volume of players are either through and playing in full County squads or have performed really well at Borough trials. What makes Sheen unique is the strong relationship we have with the county at the highest level – something that is of considerable benefit to all aspiring junior members.
The process for a child to get into a County team is through the Borough system and onto the Talent Development Pathway.
Boys and girls are nominated to trial for Borough age group teams each January and the best players go on to represent the Region later in the summer. It is at the Regional phase that players are invited to join the full County age group squads the following winter.
This year, we have 14 boys on the Middlesex Pathway!
U10: Marcus Grisdale (County – Performance), Rory Jacomb (Borough), Freddie Danos (Borough), Joe Inch (Borough)
U11: Danny Barlow (County – Performance)
U12: Olly Richards (County – Performance), George Grisdale (County - Performance), Josh Summers (Borough)
U13: Eddie Rogan (District), Rufus Goodman (Borough), Izaak Manuel (Borough)
U14: Ben Barlow (County – Performance), Woody Wilson (County – Performance), Gabriel Hammond (County – Elite)
4. 1-1 COACHING PROGRAMME
We run what seems to be an increasingly popular 1-1 programme – and remarkably have got though much of the winter, on a Saturday, on the Common.
When we move to summertime, sessions will take place on a Sunday with Tony Bradshaw and Ali Fraser whilst Max Read will be available to take singles or small groups on a Monday, Tuesday or Thursday evening after training.
Scott Moody also runs a very decent bowling programme out of Sheen on a Saturday.
5. NEW EQUIPMENT FROM FUNDRAISING
Last summer we took delivery of a 2G Flicx pitch, a Bola bowling machine and three crazy catches.
The batting cage, which means we have, potentially three nets rather than two, is scheduled for delivery in the Easter holidays.
We are also taking delivery of five six-seater picnic tables and parasols early in the season.
6. EVENTS
We are looking to host a number of events again this summer. They include:
a) THE PRIMARY SCHOOLS TAPED BALL TOURNAMENT.
We invite four local Primary Schools – Sheen Mount, East Sheen Primary, St Mary Magdelene and Holy Trinity to take part in this tournament – normally played early in July.
We are looking for a sponsor for this event if there is anyone out there interested.
b) U11 AND U10 V MOTHERS MATCHES.
Not played last summer, but we could really do with an organiser of two matches to be played on one evening in July. Please advise if you can help.
c) COLTS PRIZEGIVING DINNER
This is scheduled to take place at Richmond CC in late November.
7. FIXTURE LIST FOR 2019
A fixture list is available on this website. This gives you an opportunity to plan for those games you would like to make your child(ren) available for in the season ahead. We play Middlesex League and Cup matches in the week and Surrey League and Cup on Sunday mornings.
8. AGE GROUP COLTS SQUADS
Training evenings will take place for 12 weeks with a one-week break at Whitsun half-term for all junior members.
These are made up of specialist time in the nets as well as a variety of fun and challenging drills and even matches on the outfield.
Days and times for age groups are as follows:
Under 14 Monday 5-7pm
Under 13 Monday 5-7pm
Under 12 Monday 5-7pm
Under 11 Tuesday 5-7pm
Under 10 Tuesday 5-7pm
Under 6-9 Tuesday 5-7pm
The membership fee for the season is £120 for Under 6-9's.
From U10 to U14, the membership fee is £140.
Sibling's enjoy a 25% discount on membership fees.
It is anticipated each child of U10 and above has the opportunity to play in a minimum of six matches through the season.
Membership reminders are sent out by e-mail to existing members, though newcomers are more than welcome to contact us through the website ('Contact Us' page) or mail Tony Bradshaw on tonybraldo@gmail.com.
NOTE: WE DO NOT TURN AWAY PLAYERS – THERE ARE ALWAYS PLACES FOR NEW MEMBERS. CONTACT US (ABOVE) TO JOIN THE MAILING LIST!
9. MATCH TIMES AND DAYS
Home matches will be played, wherever possible, on the following days:
AGE DAY TIME
U14's Friday 5.30pm for a 6pm start
U13's Thursday 5.30pm for a 6pm start
U12's Monday 5.30pm for a 6pm start
U11's (Middx) Wednesday 5.30pm for a 6pm start
U11's (Surrey) Sunday 9.15am for a 9.45am start
U10's Tuesday 5.30pm for 6pm start
U10's (Surrey) Sunday 9.15am for a 9.45am start
U6-9's Sunday 9.30am for 10am start
Away matches are at the behest of the opposition though wherever possible we have tried to arrange them on the same day as home games. (Starting times are the same.
10. MERCHANDISE
The U14's and U13's will play in Scorchers coloured kit again this summer. Please be aware every member needs a Sheen Scorchers cap, which we will have in stock, before the start of the season. We also have a stock of Sheen Colts white shirts for the younger age groups.
11. COLTS CRICKET COMPANY
Tariq Nazir, renowned for his championing of Colts equipment at excellent prices, has a shop – next to AJ-Fordhams in Robin Hood Way, Kingston (just off the A3 near the Robin Hood roundabout). tnazir@talk21.com.
We also have a strong relationship with Sheen Sports, who offer a 10% discount to all Sheen Park members – adults and colts.
12. OLD BATS PLEASE!
We've had old bats donated over the years, but can always do with more! If you have an old bat lying around that is no longer of any use to you, could you please bring it to Sheen at the start of the season.
They are valuable to us & after a clean-up are ideal for youngsters venturing into the game for the first time.
We have found less use for old pads, gloves, etc. IT'S BAT'S – HOWEVER BATTERED – WE NEED!!!!
13. CREDIT SYSTEM
Just a reminder that unless it is in exceptional circumstances, we offer credits rather than refunds if your child should your child be unable to attend a camp or winter training.
14. LOST PROPERTY
Every summer, many items of clothing are left at the ground after camps and training. They are kept in storage at the ground (main changing room) so feel free to rummage through the pile when you come down if your child has misplaced a fleece, wind-cheater or sweater!
Look forward to seeing many of you this season.
Season Review 2018
UNDER 14's:
Middlesex League: 8th in Div 1;
Middlesex Cup: First round.
Main man: Gabriel Hammond
Middlesex record: Pld 2 W 0 L 2 N/R 6
Season synopsis: Poor availability meant that this team played just two matches in 2018 – losing to both Richmond and Sunbury. It had been hoped that it would be possible to play more games – but with a small U13 squad and barely any U14's this was never going to be a strongly competitive XI. Gabriel Hammond once again stood out with innings of 48* against Richmond and 32 and 2-28 v Sunbury. Will Weir took 3-31 in the two games to end up leading wicket-taker. There is every expectation that this age group will be strongly competitive in 2019, with a taented U13 contingent being available for the league competition.
UNDER 13's
Middlesex League: 1st in Div 2;
Middlesex Cup: Second Round
Main man: Ben Barlow
Middlesex record: Pld 11 W 8 L 3
Season synopsis: With a total of 293 runs from eight innings, including three half-centuries, Ben Barlow realised his potential at the top of the order and he was well supported by Olly Richards, playing almost thee years above his age group (182 runs at 45.5), Rufus Goodman (115 runs at 38.33) and Gabriel Hammond 92 runs at 46.00.) There were a number of resounding victories against modest opposition and a league title to enjoy, but the team was then outgunned by stronger opposition, losing heavily to both Indian Gymkhana (Middx Cup) and Sunbury (Middx League play-off). Leading wicket-takers were Eddie Rogan and Ben Barlow, with seven apiece, but in truth the attack was disappointingly lacking in penetration up front and all too often it was left to the spinners to claw games back.
UNDER 12's
Middlesex League: 3rd;
Surrey League: 3rd;
Surrey Cup: 1st Round
Main man: Luke Magalhaes
Rising star: Jackson Smith
Middlesex record: Pld 7 W 5 L 2
Surrey record: Pld 10 W 7 L 3
Season synopsis: There was a startling symmetry between the Middlesex and Surrey seasons, this age group playing a succession of matches against frankly, modest opponents that helped create an aura of invincibility. Losses to Indian Gymkhana and Richmond (Middlesex) and Old Rutlishians and Ashtead (Surrey) late in the summer torpedoed league title hopes. There was also a tight but ultimately disappointing loss to Richmond in the first round of the Surrey Cup. This is a fine group of individual players but if there is a concern, it is that under pressure against well-drilled opponents there is not quite the level of resolve required to be a truly outstanding team. An issue that needs addressing is the captaincy where a number of players stepped up to lead the side without ever quite being comfortable in the role. Rufus Goodman was the stand-out batsman with 220 runs from eight innings including a ruthless 56* against Teddington whilst Jackson Smith was comfortably the most improved player and managed an unbeaten 50 against Barnes. Luke Magalhaes, Olly Richards, Will Weir and Ted Clark also scored 160 + runs and Magalhaes had an impressive season behind the stumps taking six catches and snaring 13 stumpings. Leading wicket-taker through a summer of flat wickets and fast outfields was Izaak Manuel (11 at 13.54) whilst Will Weir took 10 wickets at 22.00. In all the 85 wickets taken by bowlers were shared between 17 players.
UNDER 11's
Middlesex League: 2nd;
Middlesex Cup: 2nd Round
Main man: George Grisdale
Middlesex record: Pld 10 W 5 L 5
Season synopsis: As much as playing boys and girls up is a strength of Sheen's selection policy, it is also an Achilles heel in that if an U11 side is playing on the same day as an U12 team, it can be missing a number of key players. When at full strength, this XI was a match for any side, George Grisdale thumping 245 runs in just five innings, including three half-centuries. He received strong support from Olly Richards (156) and Eddie Vigar (127). The bowling was less potent, though Marcus Gridale, playing two years above his age was co-leading wicket-taker with Leo Cusden, both claiming seven victims. Danny Barlow (6) and Eddie Vigar (6) were the next most successful. Ultimately defeats to Indian Gymkhana cost the side the league title and a concession in the cup due to lack of availability was a disappointment.
UNDER 10's
Middlesex League: 6th
Surrey League: 3rd
Middlesex Cup: First round
Main man: Danny Barlow
Rising Stars: Haris Khan, Freddie Danos
Middlesex record: Pld 12 W 5 L 7
Surrey record: Pld 10 W 5 L 5
Season synopsis: A crop of young players were blooded in both the Middlesex and Surrey Leagues and performed way above expectation through the summer. With few victories expected from a side that included many U8's and U9's, the squad managed 10 in all – an outstanding achievement. Harry Klein was leading run scorer (114) followed by Danny Barlow (91) and Rory Jacomb (81) whilst Barlow also claimed 11 wickets along with Haris Khan. Freddie Danos managed nine, including a memorable spell of 2-1-2-4 against Malden Wanderers.
THE CLUB PLAYER OF THE YEAR is selected on the basis of points scored for batting, bowling and fielding through all games in the summer.
There are 15 points per wicket, one per run, 10 per catch/run out as well as 20 points per catch/stumping for 'keepers.
Leading points scorers through the summer are listed below.
NAME RUNS WKTS CT CT/ST TOTAL PTS
Olly RICHARDS
509
210
40
759
Luke MAGALHAES
243
90
320
653
Will WEIR
220
255
90
565
Rufus GOODMAN
350
90
30
470
George GRISDALE
371
75
20
466
Danny BARLOW
132
285
30
447
Ted CLARK
226 150
50
426
Jackson SMITH
365
45
10
420
Ben
BARLOW
305
105
410
Eddie ROGAN
91
225
70
386
Gabriel HAMMOND
172
90
50
312
Marcus GRISDALE
98
195
293
Eddy VIGAR
129
90
50
269
Haris KHAN
68
165
10
243
Joseph DUNLOP
83
135
10
228
Izaak MANUEL
20
180
20
220
Dillon SHORI
102
60
20
182
Rory JACOMB
81
75
20
176
Antonin KOTAK
65
105
170
Freddie DANOS
19
135
10
164
Connor PRICE
5
135
10
150
Olly
BURKE
86
60
146
Woody WILSON
29
60
40
129
Enzo MANUEL
58
60
118
Harry KLEIN
114
114
Leo
CUSDEN
6
105
111
Dan
PRICE
16
75
20
111
Toby PRODDOW 52
45
10
107