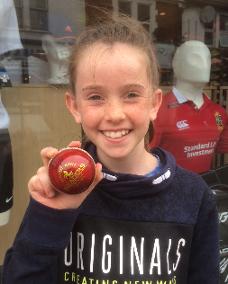 WICKET MAIDEN: Eadie Alexander took two wickets in two balls in her first game for Sheen Colts at Twickenham.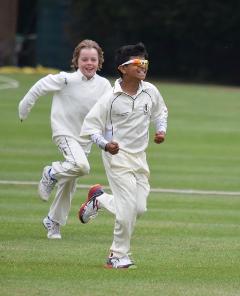 RUNNING MEN: Shori claims another victim
GOTCHA: Luke Magalhaes leads the celebration with Rufus Goodman and a thoughtful Will Weir.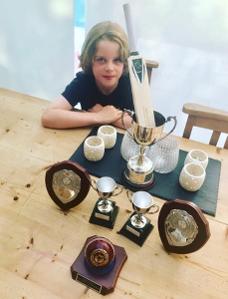 PLAYER OF THE YEAR: Olly Richards, who claimed six Trophies at the annual prize giving.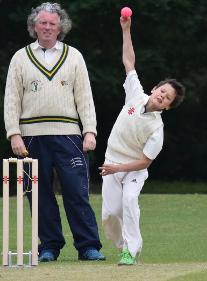 FAST AND THE FURIOUS: Ted Clark in action at Sunbury.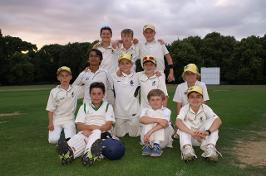 CUP WINNERS: The team after the U11 Regional final win against Teddington.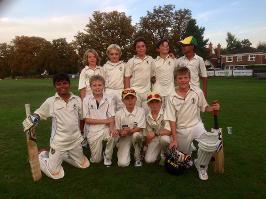 STOKED UP: Celebrating a compelling win against Esher in the eight-a-side final.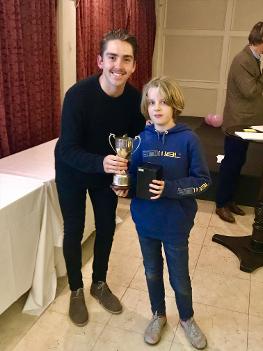 OLE OLLY: Olly Richards collects the Sheen Colts Victor Ludorum trophy from former Sheen Colt and Middlesex Cricketer, Tom Lace.
Season Review 2018
UNDER 14's:
Middlesex League: 8th in Div 1;
Middlesex Cup: First round.
Main man: Gabriel Hammond
Middlesex record: Pld 2 W 0 L 2 N/R 6
Season synopsis: Poor availability meant that this team played just two matches in 2018 – losing to both Richmond and Sunbury. It had been hoped that it would be possible to play more games – but with a small U13 squad and barely any U14's this was never going to be a strongly competitive XI. Gabriel Hammond once again stood out with innings of 48* against Richmond and 32 and 2-28 v Sunbury. Will Weir took 3-31 in the two games to end up leading wicket-taker. There is every expectation that this age group will be strongly competitive in 2019, with a taented U13 contingent being available for the league competition.
UNDER 13's
Middlesex League: 1st in Div 2;
Middlesex Cup: Second Round
Main man: Ben Barlow
Middlesex record: Pld 11 W 8 L 3
Season synopsis: With a total of 293 runs from eight innings, including three half-centuries, Ben Barlow realised his potential at the top of the order and he was well supported by Olly Richards, playing almost thee years above his age group (182 runs at 45.5), Rufus Goodman (115 runs at 38.33) and Gabriel Hammond 92 runs at 46.00.) There were a number of resounding victories against modest opposition and a league title to enjoy, but the team was then outgunned by stronger opposition, losing heavily to both Indian Gymkhana (Middx Cup) and Sunbury (Middx League play-off). Leading wicket-takers were Eddie Rogan and Ben Barlow, with seven apiece, but in truth the attack was disappointingly lacking in penetration up front and all too often it was left to the spinners to claw games back.
UNDER 12's
Middlesex League: 3rd;
Surrey League: 3rd;
Surrey Cup: 1st Round
Main man: Luke Magalhaes
Rising star: Jackson Smith
Middlesex record: Pld 7 W 5 L 2
Surrey record: Pld 10 W 7 L 3
Season synopsis: There was a startling symmetry between the Middlesex and Surrey seasons, this age group playing a succession of matches against frankly, modest opponents that helped create an aura of invincibility. Losses to Indian Gymkhana and Richmond (Middlesex) and Old Rutlishians and Ashtead (Surrey) late in the summer torpedoed league title hopes. There was also a tight but ultimately disappointing loss to Richmond in the first round of the Surrey Cup. This is a fine group of individual players but if there is a concern, it is that under pressure against well-drilled opponents there is not quite the level of resolve required to be a truly outstanding team. An issue that needs addressing is the captaincy where a number of players stepped up to lead the side without ever quite being comfortable in the role. Rufus Goodman was the stand-out batsman with 220 runs from eight innings including a ruthless 56* against Teddington whilst Jackson Smith was comfortably the most improved player and managed an unbeaten 50 against Barnes. Luke Magalhaes, Olly Richards, Will Weir and Ted Clark also scored 160 + runs and Magalhaes had an impressive season behind the stumps taking six catches and snaring 13 stumpings. Leading wicket-taker through a summer of flat wickets and fast outfields was Izaak Manuel (11 at 13.54) whilst Will Weir took 10 wickets at 22.00. In all the 85 wickets taken by bowlers were shared between 17 players.
UNDER 11's
Middlesex League: 2nd;
Middlesex Cup: 2nd Round
Main man: George Grisdale
Middlesex record: Pld 10 W 5 L 5
Season synopsis: As much as playing boys and girls up is a strength of Sheen's selection policy, it is also an Achilles heel in that if an U11 side is playing on the same day as an U12 team, it can be missing a number of key players. When at full strength, this XI was a match for any side, George Grisdale thumping 245 runs in just five innings, including three half-centuries. He received strong support from Olly Richards (156) and Eddie Vigar (127). The bowling was less potent, though Marcus Gridale, playing two years above his age was co-leading wicket-taker with Leo Cusden, both claiming seven victims. Danny Barlow (6) and Eddie Vigar (6) were the next most successful. Ultimately defeats to Indian Gymkhana cost the side the league title and a concession in the cup due to lack of availability was a disappointment.
UNDER 10's
Middlesex League: 6th
Surrey League: 3rd
Middlesex Cup: First round
Main man: Danny Barlow
Rising Stars: Haris Khan, Freddie Danos
Middlesex record: Pld 12 W 5 L 7
Surrey record: Pld 10 W 5 L 5
Season synopsis: A crop of young players were blooded in both the Middlesex and Surrey Leagues and performed way above expectation through the summer. With few victories expected from a side that included many U8's and U9's, the squad managed 10 in all – an outstanding achievement. Harry Klein was leading run scorer (114) followed by Danny Barlow (91) and Rory Jacomb (81) whilst Barlow also claimed 11 wickets along with Haris Khan. Freddie Danos managed nine, including a memorable spell of 2-1-2-4 against Malden Wanderers.
THE CLUB PLAYER OF THE YEAR is selected on the basis of points scored for batting, bowling and fielding through all games in the summer.
There are 15 points per wicket, one per run, 10 per catch/run out as well as 20 points per catch/stumping for 'keepers.
Leading points scorers through the summer are listed below.
NAME RUNS WKTS CT CT/ST TOTAL PTS
Olly RICHARDS
509
210
40
759
Luke MAGALHAES
243
90
320
653
Will WEIR
220
255
90
565
Rufus GOODMAN
350
90
30
470
George GRISDALE
371
75
20
466
Danny BARLOW
132
285
30
447
Ted CLARK
226 150
50
426
Jackson SMITH
365
45
10
420
Ben
BARLOW
305
105
410
Eddie ROGAN
91
225
70
386
Gabriel HAMMOND
172
90
50
312
Marcus GRISDALE
98
195
293
Eddy VIGAR
129
90
50
269
Haris KHAN
68
165
10
243
Joseph DUNLOP
83
135
10
228
Izaak MANUEL
20
180
20
220
Dillon SHORI
102
60
20
182
Rory JACOMB
81
75
20
176
Antonin KOTAK
65
105
170
Freddie DANOS
19
135
10
164
Connor PRICE
5
135
10
150
Olly
BURKE
86
60
146
Woody WILSON
29
60
40
129
Enzo MANUEL
58
60
118
Harry KLEIN
114
114
Leo
CUSDEN
6
105
111
Dan
PRICE
16
75
20
111
Toby PRODDOW 52
45
10
107