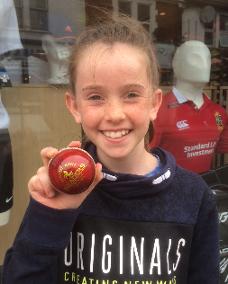 WICKET MAIDEN: Eadie Alexander took two wickets in two balls in her first game for Sheen Colts at Twickenham.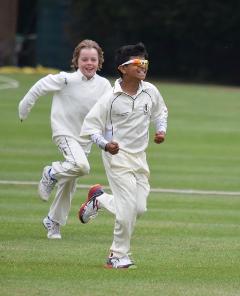 RUNNING MEN: Shori claims another victim
GOTCHA: Luke Magalhaes leads the celebration with Rufus Goodman and a thoughtful Will Weir.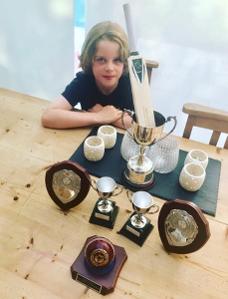 PLAYER OF THE YEAR: Olly Richards, who has won the Player of the Year three times in four summers.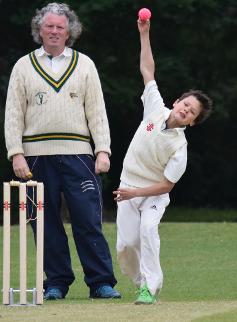 FAST AND THE FURIOUS: Ted Clark in action at Sunbury.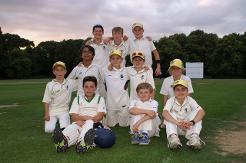 CUP WINNERS: The team after an U11 Regional final win against Teddington.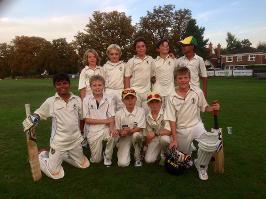 STOKED UP: Celebrating a compelling win against Esher in the eight-a-side final.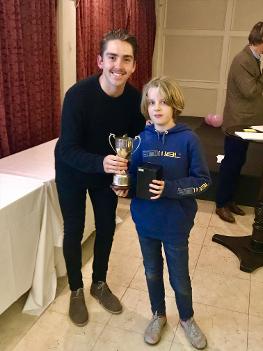 OLE OLLY: Olly Richards collects the Sheen Colts Victor Ludorum trophy from former Sheen Colt and Middlesex Cricketer Tom Lace.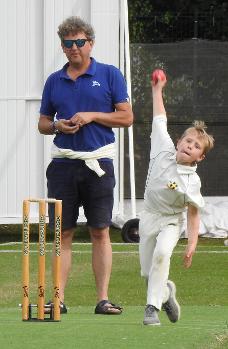 WEIGHING IN: Sammy Wade in action at the Gubby Allen County play-offs.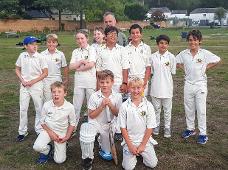 SHEEN U10's went unbeaten again in 2020 under the stewardship of Will Inch.
SHEEN PARK COLTS BULLETIN
SEASON 2021
1. WELCOME
There's always a silver lining…..
Despite the impact of Covid19 on the early season, Sheen arguably enjoyed its finest ever summer in 2020. Certainly it grew into being the most memorable since the club was formed in 2003.
There were many remarkable victories, both on and off the pitch, a community that grew stronger with the tremendous support of so many and on all fronts which translated to remarkable success on the pitch.
Though winning trophies was not the major objective, the U9's won their softball league, the U10's were again unbeaten in Middlesex and Surrey, the Girls U10's also went unbeaten, and the U14's clinched their league with a game to spare.
Olly Richards had a golden summer scoring 775 runs and clinching the Victor Ludorum trophy for the third time in four years, a jaw-dropping 610 points ahead of his nearest rival.
2. SHEEN COLTS COMMUNICATIONS
WEBSITE
There is a fair amount of information on this website, including that about fixtures, membership, dates for the diary etc.
FACEBOOK PAGE
We use a 'Sheen Scorchers' Facebook page as a back-up to the regular e-mails you receive.
Please check out the page (Google: Sheen Scorchers) and click the 'like' icon inset in the main picture it to receive regular updates. It is an invaluable tool for last minute cancellation of games, etc. and will be regularly updated with information relevant to the Colts section.
(Note – if you click the 'like' box, this means you will see the Sheen Scorchers status updates but the site cannot see your personal information or posts if you don't wish anyone to do so.)
E-MAIL
If you are not on Facebook or not much of a Googler – never fear. All the information you need will be sent via e-mail to you through the season, (Camps, membership, matches, etc.) provided you are on the mailing list.
THIS IS SENT CHRONOLOGICALLY THROUGH THE SEASON. SPRING TERM 1-1's; EASTER CAMPS; SUMMER MEMBERSHIP; SUMMER HALF-TERM CAMP; SUMMER HOLIDAY CAMPS ETC.
If you are not a current member but are keen on joining the club, please send an email (to tonybraldo@gmail.com) with the following details:
Parents name(s)
Address
Tel(s)
Child's name(s)
DOB
Place of birth
School
Allergies, etc. (if applicable)
Once these have been received you will be added to the members mailing list and receive regular updates.
PLEASE NOTE: WE ARE ALWAYS VERY KEEN ON ATTRACTING NEW MEMBERS TO THE CLUB!
3. MIDDLESEX COUNTY COLTS
We are one of the most successful Colts Club in Middlesex in proportion to our numbers. What makes Sheen unique is the strong relationship we have with the county at the highest level – something that is of considerable benefit to all aspiring junior members. Also we have a policy of playing talented boys up above their age groups where relevant.
It has been nigh on impossible to run trails this winter, but those on the Middlesex pathway are listed below. Many congratulations to all of you!
The process for a child to get into a County team is through the Borough system and onto the Talent Development Pathway.
Boys and girls are nominated to trial for Borough age group teams each January and the best players go on to represent the Region later in the summer. It is at the Regional phase that players are invited to join the full County age group squads the following winter.
This year, we have 21 boys and girls on the Middlesex Pathway
U10
Joe Inch – (Borough)
Sammy Wade (Borough)
Max Jackson (Borough)
Noah Guest (Borough)
U11
Rory Jacomb (County)
Ned Ballantyne (Borough)
Huw Stradling (Borough)
Ranveer Dangi (Borough)
Jeevan Bhandal (Borough)
U11 (Girls)
Ellie Phillips (County)
U12
Marcus Grisdale (County)
Freddie Danos (Borough)
Alf Beresford-Pierse (Borough)
Harry Klein (Borough)
U12 (Girls)
Cara Hughes (County)
U13
Danny Barlow (County - Surrey)
U14
Olly Richards (County)
George Grisdale (County)
Josh Summers (Borough)
Megan Wilson (County)
U17
Woody Wilson (Regional)
Gabriel Hammond (County)
4. ONE-TO-ONE COACHING PROGRAMME
We run what seems to be an increasingly popular 1-1 programme – and remarkably have trained though much of the winter on the common, when allowed. We hope to be in a position to run regular 1-1 sessions at the weekend in the summer for those interested. More to follow!
5. FUNDRAISING
Jane Bhandal is in the process of putting together a fundraising committee which will have a remit to improve facilities on the common in 2021 and beyond.
6. EVENTS
We are looking to host a number of events again this summer. They include:
a) THE PRIMARY SCHOOLS TAPED BALL TOURNAMENT.
Historically, we invite four local Primary Schools – Sheen Mount, East Sheen Primary, St Mary Magdelen's and Holy Trinity to take part in this tournament – normally played early in July.
St Mary Magdelen won the first three tournaments.
b) U11 AND U10 V MOTHERS MATCHES.
Not played again last summer, but we hope it will be resurrected this year, if it can be fitted in.
c) COLTS PRIZEGIVING DINNER
This is scheduled to take place at Richmond CC in late November subject, of course, to a relaxation in Covid restrictions.
7. FIXTURE LIST FOR 2021
A fixture list has been published on the Sheen Park Colts website. This gives you an opportunity to plan for those games you would like to make your child(ren) available for in the season ahead. Predominantly, we play Middlesex League and Cup matches in the week and Surrey League and Cup on Sunday mornings. We are competing at U17, U15, U14, U13, U12, U11 (two teams), U10 (two teams) and U9. We have also entered U10 (softball) and U12 (hardball) girls teams into the Middlesex League this summer.
8. AGE GROUPS 2021
U9 – Born after September 1st2011 (Year 4 and below)
U10 - Born between September 1st 2010 and August 31st 2011 (Year 5)
U11 - Born between September 1st 2009 and August 31st 2010 (Year 6)
U12 - Born between September 1st 2008 and August 31st 2009 (Year 7)
U13 - Born between September 1st 2007 and August 31st 2008 (Year 8)
U14 - Born between September 1st 2006 and August 31st 2007 (Year 9)
U15 - Born between September 1st 2005 and August 31st 2006 (Year 10)
U17 - Born between September 1st 2003 and August 31st 2004 (Year 12)
9. AGE GROUP COLTS SQUADS
Training is scheduled to take place from the weekend commencing 24thApril for 12 weeks with a one-week break at half-term for all junior members.
The form of training will be dictated by the Government directives at the time though it is hoped these will be made up of specialist time in the nets as well as a variety of fun and challenging drills and even matches on the outfield.
Days and times for age groups are as follows:
Under 15 - Sunday 9.30am-11.00am
Under 14 - Sunday 9.30am-11.00am
Under 13 - Sunday 9.30am-11.00am
Under 12 - Sunday 9.30am-11.00am
Under 12 (Girls) - Sunday 9.30am-11.00am
Under 11 - Saturday 9.30am-11.00am
Under 10 - Saturday 9.30am-11.00am
U10 (Girls) - Saturday 9.30am-11.00am
Under 6-9 - Saturday 9.30am-11.00am
The membership fee for the season will be £120 for Under 6-9's to cover twelve ninety minute sessions through the summer and any matches arranged.
From U10 to U15, the membership fee will be £140.
Sibling's enjoy a 25% discount on their membership fees. U6-9 - £30; U10-14 £35.
It is anticipated each child of U10 and above has the opportunity to play in a minimum of six matches through the season.
Membership reminders are sent out by e-mail to existing members, though newcomers are more than welcome to contact us through the website ('Contact Us' page) or mail Tony Bradshaw on tonybraldo@gmail.com.
10. MATCH TIMES AND DAYS
Home matches will be played, wherever possible, on the following days:
AGE/DAY/TIME
U17/15/U14's - Friday 5.30pm for a 6pm start*
U13's - Thursday 5.30pm for a 6pm start*
U12's - Monday 5.30pm for a 6pm start*
U12 Girls - Saturday 9.15am for a 9.45am start
U11's - Wednesday 5.30pm for a 6pm start*
U11's (Surrey) - Sunday 9.00am for a 9.30am start
U10's - Tuesday 5.30pm for 6pm start*
U10's (Surrey) - Sunday 9.00am for a 9.30am start
U10 Girls (Surrey) - Sunday 9.15am for a 9.45am start
U6-9's - Sunday 9.15am for a 9.45am start
*Early season matches can start at 5.30pm and a 6pm start is usual from the third week in May.
Away matches are at the behest of the opposition though wherever possible we try to arrange them on the same day as home games. (Starting times are the same.)
11. COACHING AND MATCH MANAGEMENT
At the time of writing, we have a significant number of volunteer managers, umpires and scorers willing to assist with most of the age groups, but we will always need more.
With the sheer volume of matches this coming summer we will need support with the game structure as much as possible as well as assistance from volunteers at training sessions.
12. COACHING CAMPS DATES 2021
We hope to be running the usual number of coaching camps through the spring and summer and will be sending information out to all members in advance of each course, or courses, taking place. Dates for the diary are listed below:
EASTER:
(10am-4pm on Sheen Common)
Monday 29th March to Friday 2nd April.
Monday 5th April to Friday 9th April.
Monday 12th April to Friday 16th April.
NOTE: The structure of Camp will be dictated by the Covid rules and regs that apply at the time. It is, of course, hoped that Camp can run as normal, but it may be that it will have to be run in groups of six per coach. More to follow!
WHITSUN HALF-TERM:
(10am-4pm on Sheen Common)
Tuesday 1st June to Friday 4th June.
SUMMER HOLIDAY CAMPS:
(10am-4pm on Sheen Common)
Monday 5th July to Friday 9th July.
Monday 12th July to Friday 16th July.
Monday 19th July to Friday 23rd July.
Monday 26th July to Friday 30th July.
Monday 2nd August to Friday 6th August.
Monday 9th August to Friday 13th August.
Monday 16th August to Friday 20th August.
Monday 23rd August to Friday 27th August.
AUTUMN HALF-TERM CAMP:
(10am-4pm on Sheen Common)
Monday 25th October to Friday 29th October.
NOTE: 10am-4pmCamps cost £30 per day per person (£25 for siblings who attend on the same day).
Registration takes place on Sheen Common, opposite 3 Fife Road, East Sheen.
The pavilion on the far side of the ground is the muster point.
13. WELFARE
Our ClubMark status deadline is 31stJuly. If you have any concerns or queries, please raise them with Sarah Wade, who is the Club Welfare Officer.
14. MERCHANDISE
Please be aware every member between U10 and U13 needs a Sheen Scorchers cap and shirt, which we will have in stock for the start of the season. (Shirts @ £18, caps @ £15.)
15. COLTS CRICKET COMPANY
Tariq Nazir, renowned for his championing of Colts equipment at excellent prices, has a shop – next to AJ-Fordhams in Robin Hood Way, Kingston (just off the A3 near the Robin Hood roundabout). tnazir@talk21.com. He offers an excellent deal on a set of junior hard-ball kit including helmet, bat, gloves, pads, box and kitbag for around £140 all in.
We also have a strong relationship with Sheen Sports, who offer a 10% discount to all Sheen Park members – adults and colts.
16. OLD BATS PLEASE!
We've had old bats donated over the years, but can always do with more! If you have an old bat lying around that is no longer of any use to you, could you please bring it to Sheen at the start of the season.
They are valuable to us & after a clean-up are ideal for youngsters venturing into the game for the first time.
We have found less use for old pads, gloves, etc. IT'S BAT'S – HOWEVER BATTERED – WE ARE LOOKING FOR!!!!
17. CREDIT SYSTEM
Just a reminder that unless it is in exceptional circumstances, we offer credits rather than refunds should your child be unable to attend a camp or winter training session.
18. LOST PROPERTY
Every summer, many items of clothing are left at the ground after camps and training. They are kept in storage at the ground (main changing room) so feel free to rummage through the pile when you come down if your child has misplaced a fleece, wind-cheater or sweater!
We look forward very much to seeing many of you again this season.