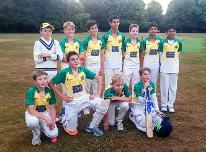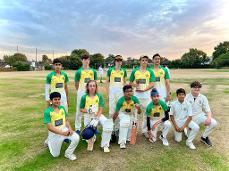 THE U17's won Division 2 of the South Region League in 2022.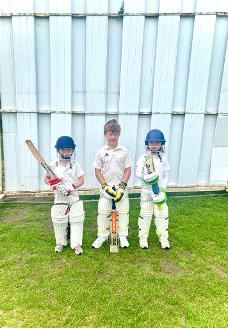 THREE MUSKETEERS: George Cole, Wilfred Pitchford and Gilby Richards.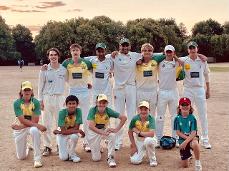 A FIRST ever season for the U19's at Sheen produced three fine wins in 2022.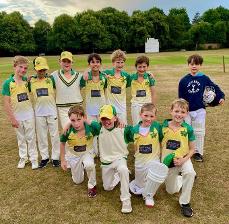 AT THE DOUBLE: The Boys U10's won two titles in 2022.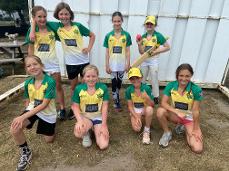 THE GIRLS U11's improved considerably through the 2022 summer. .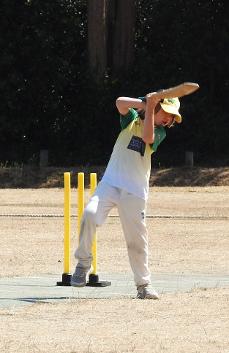 ON THE BACK FOOT: a classy shot from U9 Gilby Richards.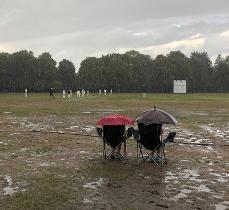 RIDERS ON THE STORM: Some intrepid parents in an U11 match against Kew.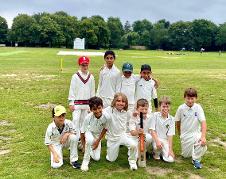 CHAMPION: The U9's won six out of eight games in 2022.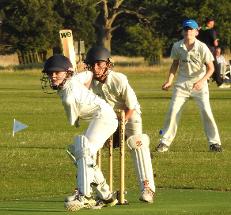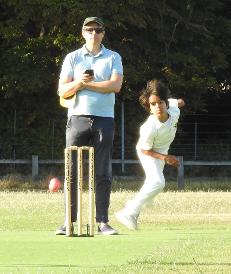 IN GEAR: Enzo Manuel unleashes another exocet.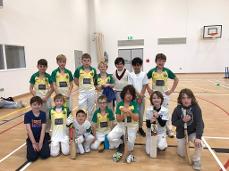 THE ARCTIC Blast indoor Christmas tournament was a huge success.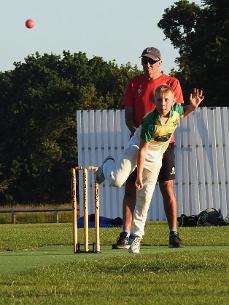 MAX THE MARVEL: Max Jackson sends down a ripper at Teddington.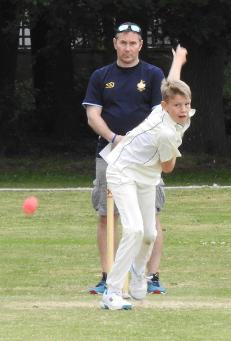 MARCUS GRISDALE who was the record breaking wicket-taker in 2019 with 45.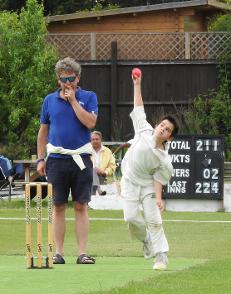 SUMMER SON: Will Summers in action at North Middlesex in the Gubby Allen Trophy.
Season Review 2023
It was a season of consolidation with many competitive teams and individuals but just one title – in the Surrey U10 League.
There always has to be a balance between being competitive and yet allowing opportunities for those starting out in the game to hone their skills.
The essence of it all, though, is that Sheen has always had a clear identity. A boutique club with few facilities, always punching above its weight, the opportunities are almost limitless for an aspiring young cricketer with many playing up well above their age.
The ethos of the club is simple.
We accept all-comers on the understanding that at the heart of all we do comes an expectation that you will always prepare well, control the controllables, train hard (purposeful practice), be a team player and compete in match-play to the best of your ability.
That is the type of player who will always be backed and supported here.
However, we structure our competitions and teams in such a way that there is always room for development players, finding their way, or for those who just want to 'go out there and have a little fun'. The key age groups in which we look to be competitive are in the U10, U11, U13 and U15 Middlesex Leagues where first choice bowlers and batters bowl the overs and bat at the top of the innings.
For the less gifted, there is the opportunity to play U10 (Surrey), U12 (Middx), U13 (Surrey) and U14 (Middx).
And we do offer U17, U19 and U21 cricket, though getting sides out for these matches last summer was a bit like pulling teeth!
The club has grown, and with it has come increased responsibility from parents to assist with managing and scoring games. It is something we need to continue to address moving forward, with the right managers taking the right teams.
Many, many thanks to all those who assisted this summer gone, whether it was to run games, offer lifts or to assist at training on a Saturday morning!
UNDER 21 MDL:
Middlesex Record: Pld 3 W 0 D 2 L 1
An interesting exercise with two solid draws claimed against Barnes and Twickenham followed by a loss to Hampton Hill by eight wickets.
Matty George (58) Rufus Goodman (84) and Luke Magalhaes (51) all notched half centuries while George took 6-24 against Twickenham and 2-46 against Barnes to emerge leading wicket-taker.
UNDER 19 T 20 Shield:
Middlesex Record: Pld 3 W 1 L 2
Like the U17's there was very poor availability for this age group and whilst it's never a bad thing to play up one or two younger players, leaving them exposed is not an objective!
During the winter we will need to establish what commitment we have from U17-and-up players to find out if this is a viable competition to enter in 2024.
UNDER 17 MDL
Middlesex Record: Pld 2 W 1 L 1
An extremely disappointing summer with dreadful availability. There were high hopes in the build up – an U16 side had won the U17 B League the previous season – but a number of players who had prospered in 2022 simply faded away. It is important we do put out sides at this age group. It defines a clear pathway through the club and on into the adult teams – so we will keep working on making sure it is a permanent fixture.
UNDER 14/15
Middlesex Record: Pld 7 W 4 L 3
Again poor availability of senior players made for an up-and-down summer, with sweeping wins over Hampton Hill, Teddington, Teddington Town and Twickenham and then heavy defeats to Sunbury, Teddington and HWR.
There is no doubt that had we been able to field our strongest sides on a regular basis at both age groups we could have been extremely competitive, but alas this was rarely possible.
Ishaan Patel was the stand-out bowler with seven wickets at 5.28 while Harry Klein hit 103 runs at 51.50. Ishrat Oberoi managed 114 runs and eight wickets and was the one senior who was consistently available.
UNDER 13
Middlesex Record: Pld 14 W 10 L 4
Surrey Record: Pld 8 W3 L5
This is probably the club's strongest squad with bags of potential, but for the second year running it did not manage to get over the line when the chips were down. Their fierce rivals – Teddington – got the better of them on three occasions in the summer, twice by agonizingly slender margins and most notably in the Regional Cup final.
The only other team to get the better of them was Sunbury in a match Sheen controlled for lengthy periods before a batting collapse f(rom 40-2 to 56 all out chasing 81) left them in a spin.
Jeevan Bhandal led by example all summer, scoring 364 runs at 91.00, including a stunning century against Wycombe House in 45 balls, and two half centuries.
Leading run scorer, however, was the unflappable Ranveer Dangi with 423 runs at 52.87, including four half centuries while the talented Omkar Shenai managed 299 runs and three half centuries.
In the final analysis, the attack never settled into a working unit – availability was inconsistent – and wickets were shared with Max Pagnamenta (14), Huw Stradling (14), George Butler (13) Jack Haynes (12) and George Lacy (10) all getting into double figures.
Apart from Shenai (eight wickets at 18.50) there was a dearth of spinning talent and this is something that, if reconciled, may help the team move up a level next summer.
UNDER 12
Middlesex Record: Pld 8 W 2 L 6
There were just two wins for what was often a make-shift outfit – against Teddington and Barnes, but there were some decent individual performances in amongst the detrius of six defeats.
Nico Watts led the run scoring charts with 145 at 20.71 while Rohan Bhandal managed 101 at 20.2 and Josh Pagnamenta 99 at 24.75.
Bhandal took 9-90 in 22 threatening overs while Seb Pearson stepped up a year to claim seven wickets at 12.85.
UNDER 11
Middlesex Record: Pld 12 W 6 L6
This was a Jekyll and Hyde team if ever there was one. After heavy losses to Indian Gymkhana (A) Sunbury (A) and Ashford (A) they turned it around against all three opponents at home to register resounding wins.
Where Josh Pagnamenta had been the dominant force at U10 the previous year, it was the turn of pocket-rocket Seb Pearson who was quite outstanding throughout the summer.
He took 13 wickets at 6.69, including 5-3 and a hat-trick against Indian Gymkhana and 133 runs at 27.60, including an imperious unbeaten half-century against Sunbury.
Pagnamenta was leading run-scorer with 140 from nine innings while Danny Hart also comfortably topped 100 runs and played some important innings.
Sheen were at their most impressive when they were able to unleash their spinners on their opponents as a back-up to the probing seam of Pearson and Bhandal. Rayaan Patel, Sarvesh Ganesan and Gilby Richards were all extremely effective, especially when they bowled in tandem.
UNDER 11 GIRLS
Middlesex Record: Pld 6 W 3 L 3 A 4
A solid season from the girls, who were well led again by Jess Wood.
Lily Speers was the stand-out with 43 runs at 43.00 and six wickets at 6.50.
Daisy Thomson accumulated 39 runs, Wood 29 and Cristina Manuel 26 while also amongst the wickets were Wood (6), Gloria Pearce (4), Thomson (3) and Manuel (3).
UNDER 10
Middlesex Record: Pld 8 W 4 L 4 A 1
Surrey Record: Pld 10 W7 L3
It was disappointing the format of the Middlesex League was changed to a pairs competition because historically we have been able to offer our more gifted players the opportunity to cut their teeth in an 'out you are out' league and have the developing players turn out for the U10 Surrey pairs Tier 2 competition.
It is quite absurd in my opinion that with the new system in operation, boys were being nominated for county trials without any T20 experience – never mind 30/30!
Overall, the U10's were an outstanding outfit, and as the season progressed developed an understanding of the value of keeping their wickets intact – an Achilles heel early on.
In the Surrey League, wins against Spencer, Wimbledon and Roehampton at the tail end of the season helped the side clinch the North Region title.
Top batter was Harry Thornton with 208 runs at 69.33, while George Cole was the leading run-scorer at the age group with 251 at 35.85.
Thornton also claimed 21 wickets at 7.04, Jack Bailey took 15 wickets at 8.33, Cole 14 at 10.40 and Gilby Richards 10 at 13.20.
UNDER 9
Middlesex Record: Pld 7 W 5 L 2 A 1
This was a great opportunity for our younger players to play their first competitive cricket and clearly there are some talented youngsters embarking on their journeys.
Wilfred Pitchford topped the averages with 73 runs at 36.50 while leading run scorer was Flynn Thornton who managed 79 at 26.33.
Pitchford and Thornton were also amongst the leading wicket-takers with six apiece supported by Rory Jones (6), Gilby Richards (5), Will Abercrombie (5) and Josh Wilson (5).
After losing their opening two games, the side then went unbeaten with five wins from five starts.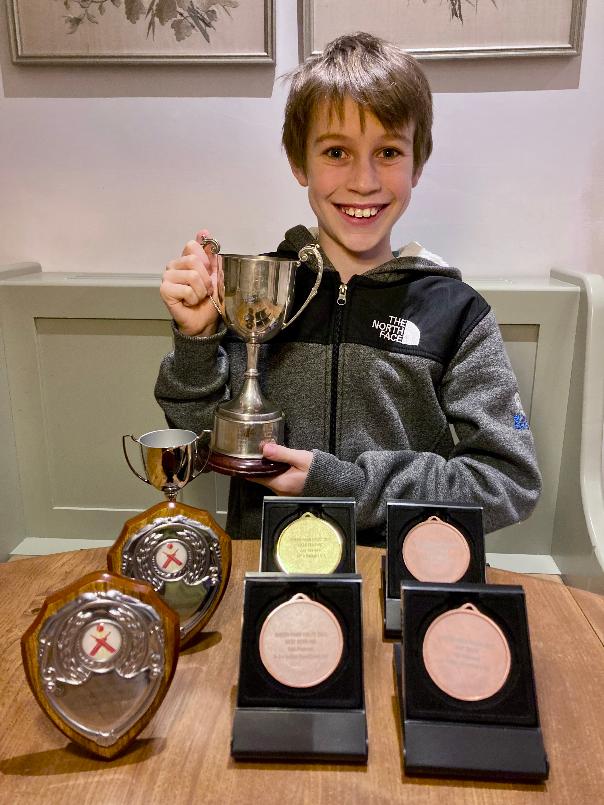 POCKET ROCKET: Seb Pearson, who as an U11, won the 20th Sheen Colts Victor Ludorum in 2023.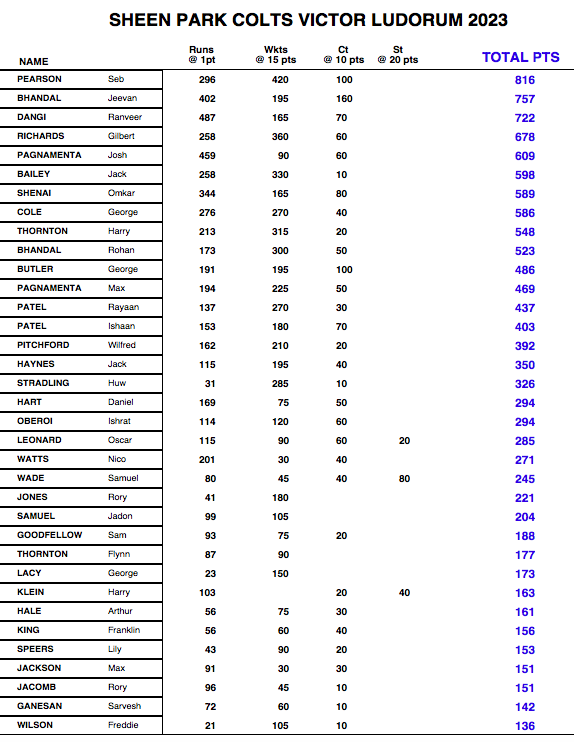 Season Review 2022
The summer of 2022 will perhaps be remembered most for the extraordinary hot dry weather which for a time seemed unremitting in its intensity. There was even a three day period where matches were postponed because temperatures were deemed unsafe for Colts cricket – even after 6pm!
For the most part though, all it served to do was to inspire our young teams to another year of rich success with the U10's, U12's, U13's and U17's claiming six trophies between them.
Perhaps the greatest thrill was the U17's triumph in their Middlesex League and a never-seen-before title at this age group.
It was also a gratifying to get sides out for the Middlesex T20 Trophy at U19 where U12's carried their weight alongside adult first team players.
That now means Sheen Colts has been competing in Middlesex and Surrey Leagues for 20 seasons. Where in earth did that time go?
UNDER 19's
Middlesex League:
Middlesex Record: Pld 6 W 3 L 1 A 2
WINS over Brentham, Chiswick and Barnes with a side that had an average age of 16 was a significant achievement, made all the more memorable by some excellent batting. There were half-centuries from Matty George (52* v Brentham and 51* v Chiswick), Owen Thornbury (50* v Brentham), Olly Richards (50* v Barnes) and Mikyle Ossman (51* v Barnes).
UNDER 17's
Middlesex League:
Middlesex Record: Pld 13 W 7 L 4 A 2
LED intelligently by Rufus Goodman, the side produced a first for Sheen Scorchers – a league title at this age group with five wins from six games. The highlights of the season were the glorious run chases against Kew and Hounslow & Whitton – Sheen reaching 153 in just 16.2 overs against Kew thanks to an unbroken stand of 106 in 10.4 overs between Luke Magalhaes (44*) and Varen Gowda (54*). Against Hounslow & Whitton the chase was almost identical – 152 – and Sheen eased to a nine wicket win with 4.5 overs to spare – Arya Singh scoring a maiden unbeaten half century. There were some stiffer tests in the Middlesex Youth Cup where the side registered just two wins.
UNDER 15's
Middlesex League:
Middlesex Record: Pld 11 W 3 L 5 A 3
WITH two centuries – against Richmond and Teddington Town – and 71* against Indian Gymkhana, Olly Richards was once more the go-to batter. While the team were always competitive at the crease– Arya Singh and Tommaso Wood lending Richards good support – the Achilles heel was the attack which was blunt up front and heavily reliant on spin as a weapon. While Oberoi and Singh had their moments, the inability of the seamers to carve out early openings made it extremely hard to later contain the more muscular of opposition.
UNDER 14's
Middlesex League:
Middlesex Record: Pld 9 W 3 L 5 A 1
A development side, much of the workload was shared around with 30 players bowling and 24 batting through the summer. Will Summers registered the only half century – 73 against Hampton Hill – whilst Jack Haynes was the best of the bowlers with five wickets at 7.20.
UNDER 13's
Middlesex League:
Middlesex Record: Pld 15 W 9 L 5 A 1
There was success for this team in the South Region League – five consecutive wins at the back end of the season securing the title, but there was a narrow first round loss against Teddington in the ECB Cup and a shock defeat at Twickenham in the Plate that hinted at inconsistency.
The side also reached the County League semi-final, but was unable to chase down 107 against a bristling Stanmore attack.
Dhruv Ganesan often anchored the innings and scored 227 runs at 56.75, including a half-century in the defeat at Twickenham while Ranveer Dangi (214) Omkar Shenai (203), Harry Klein (168) and Alf Beresford-Peirse (139) all managed over 100 runs.
The classy Ishrat Oberoi was the stand-out bowler with 17 wickets at 7.82, including a spell of wizardry versus Kew where he took 4-8 while Jeevan Bhandal took 10 wickets at 19.7 and Ned Ballantyne seven at 14.71.
UNDER 12's
Middlesex League:
Middlesex Record: Pld 13 W 10 L 3
Surrey League:
Surrey record: Pld 8 W5 L2 A1
An outstanding side, studded with talent, that came so close to winning not just one, but four titles through a gripping season. The team finished runners up in both the Middlesex and Surrey Leagues and reached the Middlesex County League semi-finals after a hugely impressive performance against North Middlesex – but in the end had to settle for just one trophy in the summer – the South Region Plate.
Double-figure wicket takers were Huw Stradling (21 at 12.42), George Lacy (14 at 11.28) and Omkar Shenai (14 at 12.07).
Top batters were Jeevan Bhandal with 385 runs, including three half-centuries, Ranveer Dangi (311) and Omkar Shenai (236).
In Dangi, Sheen have a batsman of supreme talent and he is up there with the very best to have played at Sheen. Watch this space!
County and school commitments limited Rory Jacomb's availability, but there was still time for a memorable half-century against Teddington and possibly the most explosive spell of the summer against North Middlesex.
UNDER 11's
Middlesex League:
Middlesex Record: Pld 10 W 7 L 3
This team possibly punched above its weight for much of the summer and came close to winning the league before being toppled by a powerful Richmond in the end of season showdown.
There was an equally sobering defeat to Merchant Taylors in the County League knock-out as well as a disappointing loss to Sunbury in the Regional Cup semi-final.
But there were many excellent wins from a very young side, notably the away victory against Teddington.
Sammy Wade, with 223 runs at 31.85 and Seb Pearson with 121 runs at 24.20 were the leading run scorers while Joe Inch (nine wickets at 7.11) and Johnny Carswell (eight wickets at 9.00) headed the wicket-takers.
UNDER 11 GIRLS
Middlesex League:
Middlesex Record: Pld 10 W 2 L 8
ONCE again, a very happy team – always competitive, but generous in defeat. Marshalled by co-managers Ali Thomson and Charlie Wood it was a team that never lost its spirited approach and improved considerably through the season. In both the last two summers these girls have been playing at least a year up – but all that will change in 2023 when they will again enter the U11 league. Jess Wood again led the side well, scoring 68 runs at 34 whilst wickets were shared across the squad – the pick of the bowlers being the blossoming talent, Bella Carswell.
UNDER 10's
Middlesex League:
Middlesex Record: Pld 9 W 6 L 3
Surrey League:
Surrey Record: Pld 10 W 9 L 0 A 1
This was arguably the club's strongest team pound for pound and by the end of an exuberant summer had secured both Middlesex and Surrey League titles.
The only real disappointment came in the Gubby Allen play-off against a strong Richmond outfit where a poor batting performance left an uphill struggle for the bowlers who nevertheless almost pulled off a sensational victory.
It was a breakthrough year for Josh Pagnamenta who hammered 304 runs at 50.66 and took eight wickets at 5.87. Others amongst the runs included the redoubtable Danny Hart (210), Rohan Bhandal (185) and Franklin King (169).
King was leading bowler with 20 wickets at 7.25, while Gilby Richards (13 at 8.46) and Xavier Pearce (10 at 8.50) also reached double figures.
UNDER 9's
Middlesex League:
Middlesex Record: Pld 10 W 6 L 2 A 2
That we have an abundance of talent filtering through the ranks is unquestioned. Such was the skill displayed that a number of boys in this age group played up to U10 and even U11. Leading run scorer was Jack Bailey (77 at 33.50) while the top bowler was the irrepressible Gilby Richards, who amongst his other exploits, took 4-0 and claimed a hat-trick early in the summer against HWR. Richards captained the side with an acumen well beyond his years and was one of five boys who played up on a regular basis.
Season Review 2021
A mixed summer in the context of results in a crammed schedule with 67 matches won and 48 lost in all competition, including the summer leagues.
Sheen Colts are always competitive, but there was a strong element of inclusiveness around the club this year and winning was often not at the top of the agenda.
The U12's were our most powerful team, claiming the Middlesex South Region League and narrowly failing to make the County League finals day and they were closely followed by the U11's who won both Middlesex (South) and Surrey (East) titles.
The U9's grew in stature as the season progressed, claiming seven victories in 10 matches and finished second in their league.
The result of the season was arguably the Girls U12's extraordinary victory over a powerful Richmond outfit at Christ's School in late June.
UNDER 17's
Middlesex League:
Middlesex Record: Pld 6 W 1 L 3 A 2
With the average age of boys in this XI 15 or under, it was no surprise that this team were outplayed in a number of matches, but there were some excellent contributions. After early season batterings from Teddington (10 wickets) and Richmond (six wickets) there was a much tighter game against Teddington in the reverse fixture with Sheen going down by just 25 runs. In the final match, Josh Summers (41) and George Grisdale (41) helped Sheen to a defendable 113-7 against Hampton Hill and it was left to Olly Richards (4-3) to spin Sheen to a 26 run win.
UNDER 15's
Middlesex League:
Middlesex Record: Pld 8 W 1 L 3 A 4
It was never possible to gain any real momentum through the summer with a number of games abandoned due to poor weather. Rufus Goodman was the excellent captain of a side that was always competitive but generally lacked the strength-in-depth or power of other teams. It was, however, an invaluable experience for the youngsters playing up, with Ishrat Oberoi particularly making his mark.
There was a s solitary half century from Olly Richards against Teddington
UNDER 14's
Middlesex League:
Middlesex Record: Pld W 6 L 3 A 4
With Olly Richards the cornerstone of this team with bat, ball and in the field and an in turn aided by a willing first lieutenant, Tommaso Wood, the side enjoyed an excellent season producing fine wins against Teddington (twice), Kew (twice) Sunbury and Indian Gymkhana.
Richards managed three half centuries, including an outstanding 93* against Sunbury, and he also grabbed 20 wickets at 10.9 with his phantom spinners.
Others to hit half centuries were Wood, with 77* against Teddington and George Grisdale – 59 against Sunbury.
UNDER 13's
Middlesex League:
Middlesex Record: Pld 11 W 1 L 8 A 2
Very much a development side with the majority of the team playing up from the U12's, there was just the one win all summer – against Teddington, with Harry Klein steering the side to victory with an unbeaten half-century.. There were also two tight games against a powerful Wycombe House side – Alf Beresford-Pierse hitting 50* in a loss-off-the-last-ball encounter while Danny Barlow was consistent all summer with his left arm spin.
UNDER 12's
Middlesex League:
Middlesex Record: Pld 12 W 8 L 2 A 2
Unbeaten for the majority of the summer, Beresford-Pierse's charges only slipped at the death, losing to Barnes in the Regional Cup semi-final and Hampstead in the County league semi-final (in the last over).
The batting was both a strength and a weakness – on occasions brutally destructive – but was exposed against Barnes when the XI were bowled out for 32 chasing just 50.
Beresford-Pierse cudgeled three half-centuries including 87* against Indian Gymkhana, while Klein, Freddie Danos, Oberoi, Will Summers and Josh Kavia also reached the landmark.
The bowling was spearheaded by the indefatigable Danos who claimed 12 wickets at 12.91 while Enzo Manuel snapped up 4-3 against Barnes, including a hat-trick.
UNDER 11's
Middlesex League:
Middlesex Record: Pld 12 W 8 L 3 A 1
This was another team with considerable in-depth talent that carried much before it but ultimately was found wanting against Teddington in both league and cup (actually one player – Omker Shenai) and then falling short in the County League semi-final against North Middlesex.
Ranveer Dangi was a class act at the top of the order, compiling three effortless half centuries and in all scoring over 400 runs for the club at three age groups.
He was aided by the brutal and uncompromising Jeevan Bhandal who scored 366 runs including two half centuries at U11.
Leading wicket-taker was George Lacy with 23 while Ned Ballantyne 4-14 against Hampton Hill, U9 Seb Pearson 4-12 against HWR and Bhandal 5-8 against Barnes were all extremely effective.
A blow to the side was the early season injury to left-arm pace man Huw Stradling who underlined his talent by claiming 13 wickets when he returned in August for informal summer league cricket.
UNDER 11's
Surrey League:
Surrey Record: Pld 12 W 10 L 1 A 2
A tier two league, there was the opportunity to play up a number of U10's to this side and they didn't disappoint. There was a solitary loss against Barnes away, but the team gained revenge in the home fixture to clinch the league title.
UNDER 10's
Middlesex League:
Middlesex Record: Pld 12 W 5 L 5 A 2
Surrey League:
Surrey Record: Pld W 4 L 3 T 1 A 1
With a strong policy of playing up youngsters and they often turning out as U10/9 teams, these XI's acquitted themselves extremely well in bot Middlesex and Surrey all summer. There was excellent availability so it was rare for the team to be recognizable game to game.
Leading run-scorer was Nico Watts, with 189 at a touch under 38 while new ball specialist Seb Pearson ended up as the club's leading wicket-taker with 26 at 12.46.
UNDER 9's
Middlesex League:
Middlesex Record: Pld 10 W 7 L 3
With five seven year-olds playing in this side on a regular basis and a streak of four wins from the last four matches played, there is a lot of excitement generating from this age group.
If your U8's and U9's are your future, then Sheen definitely has a great one in prospect.
Franklin King topped the run-scoring charts with 122 at 30.50 whie seven-year-old Gilby Richards – younger brother of Olly - remodeled his action in the early weeks of the summer and ended up with 18 wickets at 7.83 including 4-16 against Sunbury.
Another of the young musketeers to stand out was Jack Bailey who ripped through Richmond, claiming 4-9.
GIRLS UNDER 12's
Middlesex League:
Middlesex Record: Pld 12 W 2 L 4 A 6
Availability was a problem throughout the summer but the outstanding Ellie Phillips held the side together and the team was rewarded with a stunning win over one of Middlesex's leading sides – Richmond – in late June.
With Sonali Garcha claiming 3-10 and Phillips scoring an unbeaten 30, Sheen's girls won by seven wickets in the 19thover of the chase.
Other girls particularly mentioned in dispatches were Lucy Wilson and Layla Edwards.
Nathan Townsend did a tremendous job of managing this side with the support of Charlie Ullathorne.
GIRLS UNDER 10's
Middlesex League:
Middlesex Record: Pld 9 W 2 L 5 A 1
This was a happy team, outstandingly marshaled by Ali Thomson. With the goal being to introduce cricket to a new crop of girls at the club, it wasn't so important to win matches as to expose our younger players to competition.
Jess Wood proved an excellent captain and Anneli Randall was the leading all-rounder.
THE CLUB PLAYER OF THE YEAR is selected on the basis of points scored for batting, bowling and fielding through all games in the summer.
There are 15 points per wicket, one per run, 10 per catch/run out as well as 20 points per catch/stumping for 'keepers.
Many congratulations to Olly Richards for winning the trophy in 2021 for the fourth time in five years!
| | | | | | | |
| --- | --- | --- | --- | --- | --- | --- |
| Olly | RICHARDS | 463 | 300 | 120 | | 883 |
| Jeevan | BHANDAL | 386 | 375 | 110 | | 871 |
| Ranveer | DANGI | 480 | 180 | 60 | | 720 |
| Harry | KLEIN | 387 | | 50 | 180 | 617 |
| Seb | PEARSON | 186 | 390 | 40 | | 616 |
| Ishrat | OBEROI | 275 | 315 | 20 | | 610 |
| Alf | B-PEIRSE | 405 | 90 | 90 | | 585 |
| Joseph | INCH | 343 | 180 | 40 | | 563 |
| Samuel | WADE | 295 | 105 | 40 | 120 | 560 |
| Freddie | DANOS | 245 | 240 | 20 | | 505 |
| Gilbert | RICHARDS | 165 | 300 | 40 | | 505 |
| George | LACY | 74 | 360 | 30 | | 464 |
| Rory | JACOMB | 232 | 180 | 40 | | 452 |
| Franklin | KING | 177 | 255 | 20 | | 452 |
| Tommaso | WOOD (Gottardi) | 214 | 165 | 60 | | 439 |
| George | BUTLER | 142 | 240 | 50 | | 432 |
| Max | JACKSON | 281 | 105 | 30 | | 416 |
| Nico | WATTS | 213 | 165 | 30 | | 408 |
| Huw | STRADLING | 40 | 240 | 30 | | 310 |
| Jack | BAILEY | 76 | 225 | | | 301 |
| Rohan | BHANDAL | 117 | 165 | | | 282 |
| Ed | CLEMENT | 173 | 105 | | | 278 |
| Marcus | GRISDALE | 106 | 90 | 80 | | 276 |
| Josh | SUMMERS | 184 | 0 | 90 | | 274 |
| Eloise | PHILLIPS | 129 | 90 | 40 | | 259 |
| Xavier | PEARCE | 60 | 195 | | | 255 |
| Ned | BALLANTYNE | 2 | 240 | 10 | | 252 |
| George | COLE | 98 | 135 | | | 233 |
| Arya | SINGH | 101 | 105 | 20 | | 226 |
| Danny | BARLOW | 58 | 150 | 10 | | 218 |
| George | GRISDALE | 163 | 30 | 20 | | 213 |
| Oscar | LEONARD | 88 | 45 | 60 | | 193 |
| Will | SUMMERS | 138 | 45 | 10 | | 193 |
| Bertie | DANOS | 45 | 135 | 10 | | 190 |
| Jack | HAYNES | 44 | 105 | 40 | | 189 |
| Harry | THORNTON | 118 | 45 | 10 | | 173 |
| Toby | STRADLING | 30 | 135 | | | 165 |
| Lukas | GEORGE | 52 | 90 | 20 | | 162 |
| Wilfred | PITCHFORD | 50 | 75 | 20 | | 145 |
| Rufus | GOODMAN | 117 | 15 | 10 | | 142 |
| Kit | STEWART | 47 | 75 | 10 | | 132 |
| Dominic | ULLATHORNE | 42 | 90 | | | 132 |
| Johnny | CARSWELL | 48 | 75 | | | 123 |
| George | BUCKINGHAM | 111 | 0 | 10 | | 121 |
| Nathan | PINTO | 51 | 60 | | | 111 |
| James | FRASER | 19 | 60 | 30 | | 109 |
| Kunsh | KHANNA | 90 | 0 | 10 | | 100 |
Season Review 2020
An extraordinary summer, which at one time seemed an unlikely prospect, was re-scheduled from June through to September and was quite simply the most wonderful in Sheen's history.
From the very start, when a Pod system of coaching was introduced to conform to Government guidelines, there was a wellspring of support from parents and on one memorable evening twelve pods of young boys and girls – 72 children – were out on the common showcasing their talent.
Ali Fraser, the former Middlesex all-rounder ran these sessions with no little skill managing a fantastic group of adult volunteers who stepped in to assist with the running of the pods.
The true breakthrough came in mid July when it was announced that a cricket season could go ahead and In all, 54 matches were then played across all age groups over the next 10 weeks – just a dozen less than one would expect in a normal summer.
This was made possible by the string of volunteer managers who stepped up to take games – Jon Grisdale, Richard Barlow, Dom Danos, Will Inch, John & Sarah Wade, Charles Ullathorne and Nathan Townsend.
Of the 43 official matches played (the others were internal games) Sheen won 30. The U10's and Girls U10's went unbeaten and the U9's lost just one match.
More important, the degree of participation increased dramatically, prompting us to enter two teams at both U10 and U11 next summer as well as U14, U15 and U17 teams to Middlesex League and Cup competitions.
We are a small club, but that is part of our attraction. Do we want to grow to 300-400 members? Never. We believe that to give the majority the best chance of playing competitive cricket our optimum is between 110 and 130 boys and girls.
Many, many, congratulations to Olly Richards, who emerged a runaway winner of the Victor Ludorum Trophy. In an unprecedented season, this young man scored 775 runs, took 13 wickets and claimed ten catches or run-outs for an outstanding total of 1070 points.
UNDER 14's
Middlesex League: 1st in Div 2
Middlesex Record: Pld 8 W 5 L 2 T 1
Season synopsis: Despite losses to Sunbury and Kew, the team managed by John Grisdale nevertheless clinched the unofficial league tile, edging out Sunbury, whose challenge was ultimately impacted on by the weather.Having registered four consecutive wins to easily top the table early on, the two defeats seriously undermined the side's chances of winning the league, but a quality innings of 62* from Marcus Grisdale forced a tie against Hounslow and Whitton, (Sheen fielded just eight players) and a crunching win over Ashford in the final match edged the team over the line. The sublime Olly Richards scored 363 runs at 90.75 while George Grisdale registered a century against Hampton Hill and Rufus Goodman (182 runs at 26.00) produced a number of foundation-laying innings' at the top of the order. As if gorging himself on hapless attacks wasn't enough, Richards was also leading wicket-taker claiming nine victims, while Danny Barlow topped the averages with six wickets at 5.66 including 4-4 against Hampton Hill. Goodman also managed six wickets while the front-line seamers – Keegan Phillips and Leo Cusden took four apiece.
UNDER 13's
Middlesex League: 4th in Div 1
Middlesex Record: Pld 8 W 3 L 5
Season synopsis: In an extremely competitive league where top and bottom were separated by just 18 points, Sheen underlined their credentials with victories over strong Richmond and Indian Gymkhana teams but did not, in the ultimate analysis, have the penetration in attack needed to mount a serious title challenge. Richards, again was the pick of the batters, registering a match-winning 115* against Indian Gymkhana and two half centuries against Sunbury. In all he amassed 409 runs at this age group at 81.80. Also amongst the runs was Josh Summers (145 at 24.16) while a host of other players contributed at various stages in the summer. The achilles heel was in the bowling, where no one took more than four wickets in the eight matches played, though Megan Wilson impressed with her accuracy and took 3-25 at 8.33.
UNDER 11's
Middlesex (North) League: 2nd
Middlesex record: Pld 6 W 2 L 4
Season synopsis: Another tight league, but with availability a little stripped back at times, Sheen were unable to gain any momentum and only registered two wins against Kew. Freddie Danos underlined his all-round qualities by claiming nine wickets at 9.33 and scoring 168 runs at 56. Others to catch the eye with the bat were Alf Beresford-Pierse (135 runs at 67.5) and Will Summers (139 runs at 34.75). Summers recorded the only half century – 52* against Richmond.
UNDER 10's
Middlesex League: 1st
Surrey Friendly League:1st
Middlesex record: Pld 7 W 7 L 0
Surrey record: Pld 5 W 5 L 0
Season synopsis: A curtailed season, it's true, but the U10's were once again magnificent, enjoying a 100% record through a hectic nine-week period. From the first match – a highly charged friendly against Sunbury won off the last ball – this squad proved itself time and time again under the inspired and benevolent leadership of manager Will Inch. Inch boasts the enviable record of two consecutive seasons unbeaten as manager-coach and has been at the heart of all things good at the club in recent times. Heading the averages by some way was the assured and gifted Ranveer Dangi (147 runs at 73.50), though top run scorer was Sammy Wade (219 runs at 27.37). Others to feature prominently with the bat were Joe Inch (174 runs at 29.00), skipper Jeevan Bhandal (141 runs at 35.25) and Nico Watts (105 runs at 26.25). Leading bowler, of those who bowled 10 or more overs, was Bhandal, with 13 wickets at 5.46 whilst Inch was top wicket-taker with 16 at 7.25. Seb Pearson took 10 wickets at 8.30, Wade nine at 8.55 and Max Jackson nine at 11.00. Rory Jacomb's hat-trick against Richmond with the first three balls of the innings at Sheen was possibly the highlight of a remarkable summer.
UNDER 10 Girls
Middlesex South League: 1st
Middlesex record: Pld 4 W 4 L 0
In their inaugural season, the girls made a distinct impression, winning all four league matches played, beating Bushey Park Girls and Roehampton & Fulham twice each. Leading wicket-takers were Abby Knight and Cara Hughes, both with five, while Sophia Ullathorne collected four. Eloise Phillips was the stand-out player in the squad allying some express bowling to some thumping performances with the bat. In all she scored 104 runs for just once out. Cara Hughes netted 64 runs, Olivia Klein 35 and Zoe Lennon 30.
UNDER 9's
Middlesex South League: 1st
Middlesex record: Pld 5 W 4 L 1
Another start-up team who excelled, enjoying victories over Hounslow, Wycombe House, Richmond and Ashford – enough to see them emerge with the league title. This was the first time Sheen had entered an U9 team to Midlesex competition, and it was an experiment that proved massively successful. With youngsters like Gilby Richards (younger brother of VL winner Olly), Wilfred Pitchford and George Cole – all just six years old – having the opportunity to enjoy the sharp edge of competition for the first time. Dominic Ullathorne topped the bowling averages with six wickets at 7.16, including 4-14 against the Towering Kings XI . Nathan Pinto (7), Richards (6) Pitchford (5), Rohan Bhandal (5) and Moore (5) all made significant contributions. Richards was top run scorer with 91 at 18.20, Pitchford scored 74 at 24.66 while Bhandal, Moore, Pearse and Weston all enjoyed match-winning performances.
* * *
Season Review 2019
UNDER 13's
Middlesex League: 5th in Div 1
Middlesex Cup: First Round
Middlesex Plate: Winners
Surrey League: 3rd in Div 1
Surrey Cup: Losing semi-finalists
Middlesex Record: Pld 12 W 4 L 5 A 3
Surrey Record: Pld 11 W 6 L 3 A 2
Season synopsis: A summer that hinged around three games in the second half of June – all of which could have been won, but all that ended in agonising defeats. First there was a one run loss to Teddington in the Middlesex League where with seven to win off the final over the boys couldn't quite get over the line. Then came a pivotal loss to Richmond in the Surrey League, where Sheen posted 138-5 thanks largely to a thumping partnership between Shori (40*) and Weir (41*) but then failed to defend the target, Richmond edging home with one ball to spare. Finally, there was another loss to Richmond in the Middlesex League where with eight to win off the final over, Richmond again got over the line. Wins in those three games would have confirmed Sheen as Surrey Champions and they would have finished runners-up in Middlesex. Small margins indeed. Statistically Dilly Shori was the stand-out batter, with 268 runs at 26.8 and he was well supported by Ted Clark (257), Rufus Goodman (196) and Olly Richards (187). Will Weir and Luke Magalhaes also topped 100 runs. On the bowling front Jamie Kennedy was the leading wicket-taker with 11 at 10.54 including a haul of 5-3 v Spencer Girls. Keegan Phillips was always steady and probing taking 10 wickets at 13.4 but other than that, the attack lacked a cutting edge and wickets were very much shared around. The summer ended on a high note with victory in the South Region Plate – a Cup competition arranged for those teams who lost in the first round of the National Championships. Anchored by Olly Richards (46) Sheen notched up 138-9 in their 20 overs while Wycombe House – at one stage well on course for victory – ultimately had no answer to the guile of Eddie Rogan, who produced a match-winning spell of 4-0-14-3.
UNDER 12's
Middlesex League: 1st in Div 2
Middlesex Cup: Losing finalists
Middlesex record: Pld 13 W 9 L 2 A 2
Season synopsis: This squad won the U12 League title with something to spare and then went on to reach the final of the Regional Cup where the team were well beaten by a powerful Richmond team who went undefeated in Middlesex through the summer. A loss to Teddington in the League play-offs left a sour taste - questionable decisions having a significant impact on the game, but overall, it was an excellent season with a number of players stepping up and making an impression. Five players scored over 100 runs including Olly Richards (223), George Grisdale (161), Josh Summers (138), James Colt (120) and Nick Squire (101). Richards' 57 was crucial in the semi-final win over Indian Gymkhana whilst George Grisdale was at his powercrazed best with 74 off 41 balls against Wycombe House. Leading wicket-taker was Olly Burke with 12 at 6.92, including 4/4 against Hampton Hill whilst Richards and Marcus Grisdale both managed 10.
UNDER 11's
Middlesex League: 1st in Div 2
Middlesex Cup: Losing finalists
Middlesex record: Pld 13 W 8 L 2 A 3
Season synopsis: The U11's summer almost a mirrored that of the U12's. League winners by some distance and a run to the final of the Regional Cup, only to lose both the League play-off at Teddington and then the Regional Cup final against as good a Sunbury U11 side as there has been for many a year. Danny Barlow led the side from the front, scoring 121 runs at 24.2 including a fighting of 31* against Teddington in the County play-offs and taking seven wickets at 12.14. Runs were very much shared around, with Marcus Grisdale registering the only half century with 52 against Ashford. Wickets were spread, too, Grisdale (8), Barlow (7), Haris Khan (5) and Rory Jacomb (5) all chipping in.
UNDER 10's
Middlesex League: 1stin Div 1; League play-off winners
Surrey League: 1stin Div 2
Middlesex Cup: Regional winners
Middlesex record: Pld 14 W 11 L 1 A 2
Surrey record: Pld 16 W 13 L 3 A 0
Season synopsis: Despite the hiccup of an off day in the County stages of the Gubby Allen, this was arguably the best U10 squad to have ever represented Sheen Park. Unbeaten in the Middlesex League, the team then played two unexpected play-off matches – but never took their eye off the ball and clinched the title with a pulsating win over Sunbury in September. There was also confirmation of their Cup status as they trounced Hampton Wick Royal in the Regional final the night before, winning by 62 runs. The story was similar in Surrey, though there were three defeats – twice to Esher in the league and then to Barnes in the Cup semi-final but a record of 24 wins and just four defeats in all competitions speaks volumes for the skill and resolve of this squad. Harry Klein scored 287 runs at 35.87 to top the averages whilst Rory Jacomb (218), Freddie Danos (212), Marcus Grisdale (203) Alf Beresford-Pierce (169) and Will Summers (159) all scored over 150 runs. Leading wicket-taker was George Lacy with 24 at 8.04 whilst Marcus Grisdale 23 at 4.30) and Freddie Danos (20 at 8.75) were almost as prolific. Five players took four or more wickets in an innings, and Cara Hughes became the first girl to achieve this feat.
NOTE: Overall, the club registered 51 wins from 67 matches played in 2019, a win ratio of 76.12% - or put more simply, three wins from every four matches played.
THE CLUB PLAYER OF THE YEAR is selected on the basis of points scored for batting, bowling and fielding through all games in the summer. There are 15 points per wicket, one per run, 10 per catch/run out as well as 20 points per catch/stumping for 'keepers. Below are all those Colts who scored 100+ points last summer.
NAME RUNS WKTS CT CT/ST TOTAL PTS
Marcus GRISDALE
338
675 70
0
1083
Olly RICHARDS
447
210 50
0
707
Freddie DANOS
257
300 60
0
617
Alf B-PEIRSE
237
300 80
0
617
Rory JACOMB
227
270 70
0
567
Enzo MANUEL
138
285 70
0
493
George GRISDALE
305
150 30
0
485
Harry KLEIN
349
75 10
40
474
George LACY
53
375 30
0
458
Danny BARLOW
181
180 80
0
441
Ted CLARK
257
135 40
0
432
Will SUMMERS
203
120 70
0
393
Dillon SHORI
268
75 30
0
373
Rufus GOODMAN
217
120 30
0
367
Will WEIR
144
135 80
0
359
Will THOMSON
116
210 30
0
356
Thomas WOOD
50
255 30
0
335
Joe INCH
77
240
0
0
317
Olly BURKE
34
240 30
0
304
Sammy WADE
62
180 40
0
282
Luke MAGALHAES
129
0 90 60
279
Josh SUMMERS
168
60 10
0
238
Jeevan BHANDAL
80
135 20
0
235
Jamie KENNEDY
28
165 40
0
233
Haris KHAN 69
90 50
0
209
James COLT
120
60 20
0
200
Adrian PINTO
103
75 20
0
198
Keegan PHILLIPS
22
150
0
0
172
Olly PHILLIPS
28
135
0
0
163
Izaak MANUEL
61
60 40
0
161
Eddie ROGAN
23
105 20
0
148
Nicholas SQUIRE
121
15 10
0
146
Eddy VIGAR
89
45 10
0
144
Cara HUGHES
5
120
0
0
125
Joe SWAN
30
90
0
0
120
Max
JACKSON
26
75
0
0
101