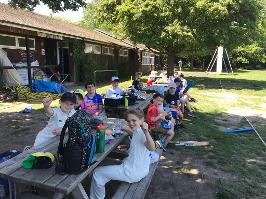 LUNCH IS SERVED: A typical scene during lunch break at a Sheen Summer Camp.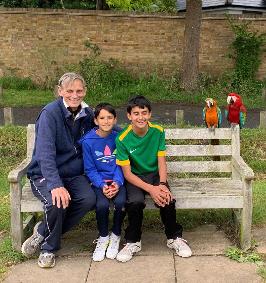 PARROT SKETCH: Jeevan Bhandal seemed a little concerned when these spectators dropped in!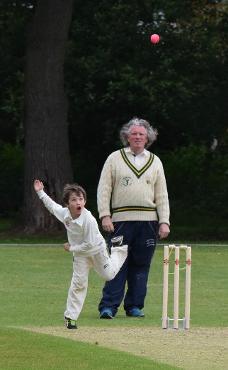 DAN'S THE MAN: Danny Barlow in action at Sunbury in the Gubby Allen Trophy.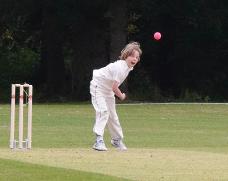 THE FAST AND THE FURIOUS: Olly Richards has proved himself on numerous occasions to be the club's outstanding talent.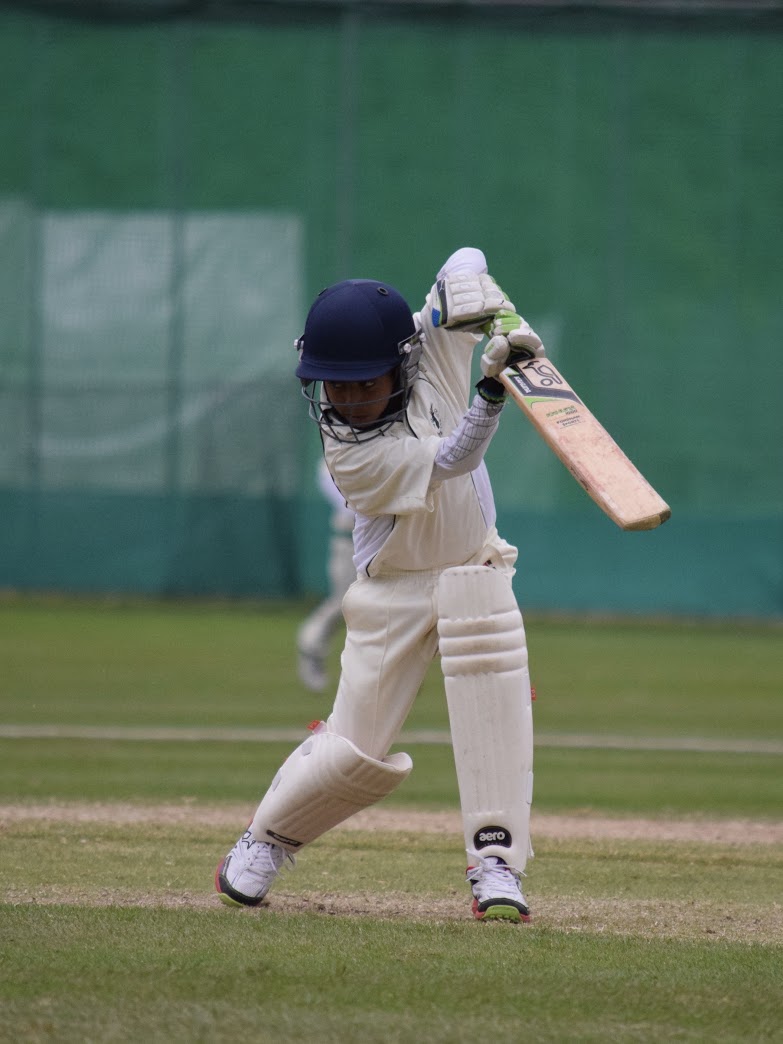 SURE THING: Dilly Shori who produced some match-winning performances in his four seasons at Sheen.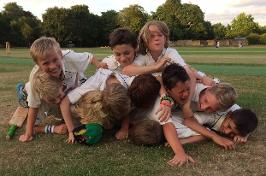 CRUSH: Celebrations after a Cup semi-final win over Indian Gymkhana.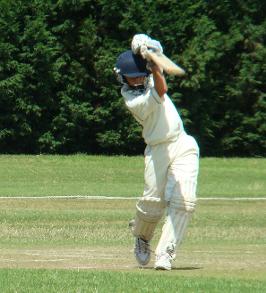 PROPER SHOT: It is inspirational when you see an U10 produce this quality of stroke.
Sheen Scorchers Camps 2023
10am to 4pm.
Sheen Common, Opposite 3 Fife Road, East Sheen, SW14 7EW
Boys and girls from 6-14 years-old (But we do take robust five-year-olds!).
WE ARE OPEN FOR BOOKING.
CAMP DATES:
WHITSUN HALF-TERM:
Tuesday 30th May to Friday 2nd June.
SUMMER HOLIDAY CAMPS:
Monday 10th July to Friday 14th July.
Monday 17th July to Friday 21st July.
Monday 24th July to Friday 28th July.
Monday 31st July to Friday 4th August.
Monday 7th August to Friday 11th August.
Monday 14th August to Friday 18th August.
Monday 21st August to Friday 25th August.
Monday 29th August to Friday 2nd September.
AUTUMN HALF-TERM CAMP:
Monday 16th October to Friday 20th October.
The cost is £150 per child for a week or £30 per day. Siblings £125 for a week or £25 per day.
FORMAT:
We are unlike other camps in that we embrace the building of relationships and friendships across the age groups and ensuring that here is plenty of competitive cricket that can be enjoyed by all the participants. Younger boys and girls can be handicapped relating to their ability so everyone has a role to play!
Mornings take the form of rounds of continuous or quick cricket followed by a pre-lunch 10/10 taped ball match then there are further 'Test' matches in the afternoon, both 10/10 and 5/5.
Some boys have taken to playing their own brand of golf in the lunch break, which is also great fun.
If numbers are high, we normally select four balanced teams who compete in a round robin tournament.
The winning captain on the day, provided he can catch it, is awarded a bag of sweets for him and his teammates.
There is no hard ball cricket at our camps, but it is worth remembering many of the worlds top players - particularly from the sub-continent - played taped ball cricket through their formative years.
TO BOOK:
a) E-mail by return, providing : Name(s) of child(ren), DOB's, Schools, Address, Tels. (You only need provide name(s) of child(ren) if if I already have your details.)
b) Confirm dates that your child(ren) will be attending camp either for a full day or a half day – am or pm.
c) Pay by bank transfer referencing your payment please with your child's name and the words 'Summer Camp':
Nat West
Sort: 60-07-20
Acc No 44384890
Acc name: Anthony M Bradshaw (Sheen Scorchers)
BRING:
Sanitiser, packed lunch, water bottle and waterproof top.
No hardball kit is required.
A bat if you have one – though we have plenty!
Coaches are usually on site from 9.50am so drop-off can be from this time.
GENERAL:
We have completed a risk assessment for cricket being played at Sheen Common and will continue to observe rules and regulations regarding cleanliness and safety.
We will, when required, be splitting the groups to cater for age range and the correct coach/player ratios will be observed.
NOTE: PLEASE BOOK IN ADVANCE IF POSSIBLE. PRIOR ADVICE ON NUMBERS ASSISTS US WITH PROVIDING THE REQUISITE NUMBER OF COACHES EACH DAY.
HEALTH AWARENESS:
REMEMBER: Please do not send your child to Camp if they are experiencing any of the following symptoms.
A fever/high temperature (Above 37.8°C).
A new, continuous dry cough.
A loss or change to their sense of taste or smell.
ONE-TO-ONES AT SHEEN
Sheen Common, Opposite 3 Fife Road, East Sheen, SW14 7EW
Boys and girls from 6-15 years old.
If you are interested in booking 1-1 batting coaching for your child(ren), we operate a year-round schedule, outdoor, at the Sheen nets.
Days vary throughout the year, with weekends being the key focus of activity.
In the winter season, sessions take place between 10am and 2pm on a Saturday and Sunday, weather permitting while in the summer they run on a Sunday from 10am-3pm. With sufficient demand, they can also run in the afternoons of Easter and Summer camps.
Each session is an hour long, with use of a Bola County bowling machine.
Tony Bradshaw is the lead coach and historically has received support from former Middlesex cricketer Ali Fraser and Kent opener Ben Compton and this year, former Surrey and England bat, Monte Lynch.
If you would like to be included in the programme, please contact Tony at: tonybraldo@gmail.com
We can also offer bowling coaching but to fully develop these skills we would strongly advise you get in touch with renowned coach Scott Moody – a student of the late and great Terry Jenner. Contact him at scott@betterbowling.co.uk for further information.