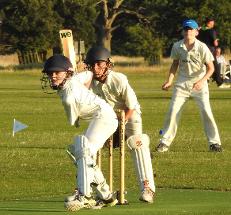 RORY JACOMB in action against Teddington.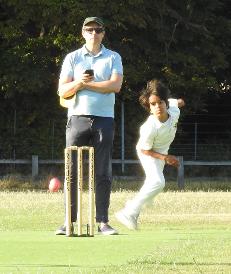 IN GEAR: Enzo Manuel fires down another exocet.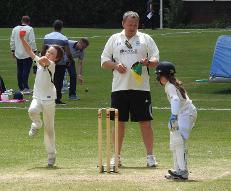 DEADLY DANOS: 20 wickets in a fine season at U10.
NO 'ALF MEASURES: Alf Beresford-Peirce was an outstanding influence all summer.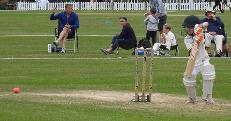 GIVE HIM AN INCH: one of Sheen's fine crop of young players - Joe Inch.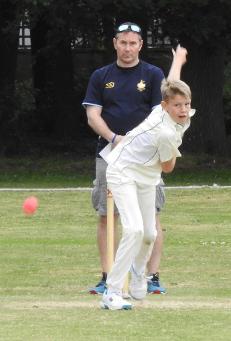 MARCUS GRISDALE who was the record breaking wicket-taker this summer with 45.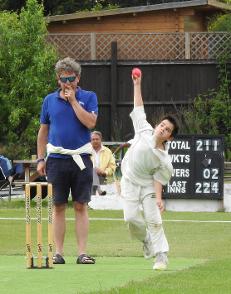 SUMMER SON: Will Summers in action at North Middlesex in the Gubby Allen Trophy.
Season Review 2019
UNDER 13's
Middlesex League: 5th in Div 1
Middlesex Cup: First Round
Middlesex Plate: Winners
Surrey League: 3rd in Div 1
Surrey Cup: Losing semi-finalists
Middlesex Record: Pld 12 W 4 L 5 A 3
Surrey Record: Pld 11 W 6 L 3 A 2
Season synopsis: A summer that hinged around three games in the second half of June – all of which could have been won, but all that ended in agonising defeats. First there was a one run loss to Teddington in the Middlesex League where with seven to win off the final over the boys couldn't quite get over the line. Then came a pivotal loss to Richmond in the Surrey League, where Sheen posted 138-5 thanks largely to a thumping partnership between Shori (40*) and Weir (41*) but then failed to defend the target, Richmond edging home with one ball to spare. Finally, there was another loss to Richmond in the Middlesex League where with eight to win off the final over, Richmond again got over the line. Wins in those three games would have confirmed Sheen as Surrey Champions and they would have finished runners-up in Middlesex. Small margins indeed. Statistically Dilly Shori was the stand-out batter, with 268 runs at 26.8 and he was well supported by Ted Clark (257), Rufus Goodman (196) and Olly Richards (187). Will Weir and Luke Magalhaes also topped 100 runs. On the bowling front Jamie Kennedy was the leading wicket-taker with 11 at 10.54 including a haul of 5-3 v Spencer Girls. Keegan Phillips was always steady and probing taking 10 wickets at 13.4 but other than that, the attack lacked a cutting edge and wickets were very much shared around. The summer ended on a high note with victory in the South Region Plate – a Cup competition arranged for those teams who lost in the first round of the National Championships. Anchored by Olly Richards (46) Sheen notched up 138-9 in their 20 overs while Wycombe House – at one stage well on course for victory – ultimately had no answer to the guile of Eddie Rogan, who produced a match-winning spell of 4-0-14-3.
UNDER 12's
Middlesex League: 1st in Div 2
Middlesex Cup: Losing finalists
Middlesex record: Pld 13 W 9 L 2 A 2
Season synopsis: This squad won the U12 League title with something to spare and then went on to reach the final of the Regional Cup where the team were well beaten by a powerful Richmond team who went undefeated in Middlesex through the summer. A loss to Teddington in the League play-offs left a sour taste - questionable decisions having a significant impact on the game, but overall, it was an excellent season with a number of players stepping up and making an impression. Five players scored over 100 runs including Olly Richards (223), George Grisdale (161), Josh Summers (138), James Colt (120) and Nick Squire (101). Richards' 57 was crucial in the semi-final win over Indian Gymkhana whilst George Grisdale was at his powercrazed best with 74 off 41 balls against Wycombe House. Leading wicket-taker was Olly Burke with 12 at 6.92, including 4/4 against Hampton Hill whilst Richards and Marcus Grisdale both managed 10.
UNDER 11's
Middlesex League: 1st in Div 2
Middlesex Cup: Losing finalists
Middlesex record: Pld 13 W 8 L 2 A 3
Season synopsis: The U11's summer almost a mirrored that of the U12's. League winners by some distance and a run to the final of the Regional Cup, only to lose both the League play-off at Teddington and then the Regional Cup final against as good a Sunbury U11 side as there has been for many a year. Danny Barlow led the side from the front, scoring 121 runs at 24.2 including a fighting of 31* against Teddington in the County play-offs and taking seven wickets at 12.14. Runs were very much shared around, with Marcus Grisdale registering the only half century with 52 against Ashford. Wickets were spread, too, Grisdale (8), Barlow (7), Haris Khan (5) and Rory Jacomb (5) all chipping in.
UNDER 10's
Middlesex League: 1stin Div 1; League play-off winners
Surrey League: 1stin Div 2
Middlesex Cup: Regional winners
Middlesex record: Pld 14 W 11 L 1 A 2
Surrey record: Pld 16 W 13 L 3 A 0
Season synopsis: Despite the hiccup of an off day in the County stages of the Gubby Allen, this was arguably the best U10 squad to have ever represented Sheen Park. Unbeaten in the Middlesex League, the team then played two unexpected play-off matches – but never took their eye off the ball and clinched the title with a pulsating win over Sunbury in September. There was also confirmation of their Cup status as they trounced Hampton Wick Royal in the Regional final the night before, winning by 62 runs. The story was similar in Surrey, though there were three defeats – twice to Esher in the league and then to Barnes in the Cup semi-final but a record of 24 wins and just four defeats in all competitions speaks volumes for the skill and resolve of this squad. Harry Klein scored 287 runs at 35.87 to top the averages whilst Rory Jacomb (218), Freddie Danos (212), Marcus Grisdale (203) Alf Beresford-Pierce (169) and Will Summers (159) all scored over 150 runs. Leading wicket-taker was George Lacy with 24 at 8.04 whilst Marcus Grisdale 23 at 4.30) and Freddie Danos (20 at 8.75) were almost as prolific. Five players took four or more wickets in an innings, and Cara Hughes became the first girl to achieve this feat.
NOTE: Overall, the club registered 51 wins from 67 matches played in 2019, a win ratio of 76.12% - or put more simply, three wins from every four matches played.
THE CLUB PLAYER OF THE YEAR is selected on the basis of points scored for batting, bowling and fielding through all games in the summer. There are 15 points per wicket, one per run, 10 per catch/run out as well as 20 points per catch/stumping for 'keepers. Leading points scorers through the summer will be listed after the Club Prizegiving!
NAME RUNS WKTS CT CT/ST TOTAL PTS